Cream Puff Recipe

This cream puff recipe makes a nice treat for teatime and is so simple you really should try it. Kids especially are big fans of cream puffs and I guess they know a good thing when they see it. A plate or two of cream puffs at a birthday party would be an interesting change from cupcakes.
Cream Puff Recipe Tips
Make sure you measure all of the ingredients precisely.
Only by adding the eggs one at a time and beating the dough vigorously will you incorporate the air that is needed to make your cream puffs rise.
Do not take the puffs out of the oven before they are completely cooked. Otherwise they will fall.
Let them cool completely before you fill them.
Ideally you should fill them just before you are going to eat them.
Cream Puff Recipe
Makes 12 large or 24 small
Ingredients
1 cup water
6 tablespoons butter
pinch of salt
1 tablespoon sugar
1 cup all purpose flour
4 medium eggs
Directions
Preheat oven to 425°F (210°C).
In a saucepan mix the butter, salt and sugar with the water, and heat just until the water boils and the butter melts. Remove from heat and immediately add all of the flour. Beat with a wooden spoon until the dough forms a ball and detaches from the sides of the pan.
Add the eggs one at a time, fully incorporating each before adding the next one. (This is a workout by the way!)
To make cream puffs, work with two tablespoons, one to scoop and one to scrape. Place mounds of dough on a nonstick cookie tray, spacing them somewhat apart. You can also use a pastry tube to form the mounds.
Bake at 425°F (210°C) for 20 minutes for smaller puffs. For larger puffs, bake for 20 minutes at 425°F (210°C), then reduce oven temperature to 375°F (190°C) and bake another 10 to 15 minutes. Puffs should be baked until they are an even medium brown color all over.
Remove from oven and immediately make a small cut in the side of each with a sharp knife. This allows the steam to escape as the puffs cool and keeps them from getting soggy. You can then return the puffs to the turned off oven with the door ajar for 10 minutes.
To fill the puffs, after they have completely cooled, cut off their tops and spoon in filling. Replace top and sprinkle with powdered sugar or perhaps drizzle with chocolate or caramel if you wish.
If you want to get really fancy, you can use a cake decorating tube to pipe the filling in through a hole in the side.
More Recipe Ideas
The cream puff recipe given here is the basis for several different French pastries and desserts, each more fancy than the one before it. I'm not suggesting you make all of these, just enjoy their existence and taste them if you get a chance. A beautiful croquembouche is reason to live.
Chouquettes: A small puff without the cream, chouquettes are topped with big grains of sugar for a little sweetness.
Cream Puffs: Cream puffs are filled with whipped cream or pastry cream if you prefer. You can sprinkle them with powdered sugar or drizzle caramel on top for a delicious crunchy taste.

Eclairs: Here the puff pastry is formed in logs. In the middle you will find a variety of fillings, traditionally coffee or chocolate cream, but also rum and raspberry. The top is iced with a complimentary flavor.
Religieuse: A big cream puff with a smaller cream puff on top. They are filled with coffee or chocolate pastry cream, glazed with icing, and decorated with butter cream.
Profiterole: You will sometimes find this on the dessert menu at French restaurants. Several ice cream filled cream puffs are topped with chocolate sauce.
Paris-Brest: A cake where the pastry forms a crown that is filled with praline cream and decorated with almond slices and powdered sugar.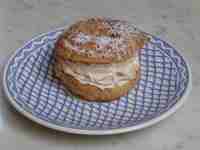 Saint-Honoré: Another elaborate crown-shaped cake made from layered pastry dough on top of which sit filled cream puffs covered in hard caramel. A mound of whipped cream garnishes the center.
Croquembouche: A masterpiece of a cake reserved for special occasions, the croquembouche is a fanciful mountain of cream puffs all held together with caramel and often decorated with French dragees.
Savory Puffs
Sometimes choux pastry is made without the sugar and formed into tiny puffs that can be filled with various savory garnishes for a French appetizer. Try with cheese spreads, salmon mousse, or foie gras.
Gougères are made by adding cheese to a choux pastry and then forming the puffs in small balls or in a crown shape. They are a popular French appetizer.
New!

Comments

Have your say about what you just read! Leave me a comment in the box below.