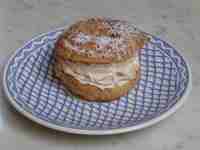 Saint-Honoré: Another elaborate crown-shaped cake made from layered pastry dough on top of which sit filled cream puffs covered in hard caramel. A mound of whipped cream garnishes the center.
Croquembouche: A masterpiece of a cake reserved for special occasions, the croquembouche is a fanciful mountain of cream puffs all held together with caramel and often decorated with French dragees.
Savory Puffs
Sometimes choux pastry is made without the sugar and formed into tiny puffs that can be filled with various savory garnishes for a French appetizer. Try with cheese spreads, salmon mousse, or foie gras.
Gougères are made by adding cheese to a choux pastry and then forming the puffs in small balls or in a crown shape. They are a popular French appetizer.