French potato recipes include dozens of ways to fry a potato, but it is not all just frites here in France. Try creamy gratin dauphinois (hearty enough to make a meal by itself), cheesy aligot, or wonderful tasting Tartiflette - a sure crowd pleaser. Potatoes are a classic accompaniment to meat in French cooking, but you will also find them featured in some recipes that are meant to be enjoyed on their own.

Almond Potato Croquettes
Mashed potatoes mixed with almond meal and egg yolks then dredged in sliced almonds are deep fat fried to make pommes de terre amandine. These make a nice accompaniment to any dish that has a little sauce.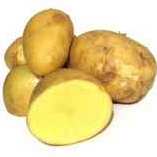 Cheesy Mashed Potatoes
Aligot is a speciality of the Auvergne region where you might find it made with great fanfare in a local restaurant. With the easy recipe here, you can try your hand at making this French speciality at home.

Garlic Mashed Potatoes
Boil potatoes with peeled garlic then mash with crème fraîche for fabulous mashed potatoes that go with just about anything.

Hot Potato Salad
This recipe comes from the Champagne region, although there are many version in eastern France and Germany. Tasty greens and salty bacon mix with warm potatoes and a vinaigrette, making a yummy winter salad.

Mashed Potato Casserole
Hachis Parmentier is French comfort food. A layer of ground meat and vegetables is topped with mashed potatoes and a sprinkle of cheese then baked for a short while. Perfect with a green salad.

Oven French Fries
Satisfy your cravings without adding a lot of fat into your meal or fuss into your kitchen time. Change the seasonings as you wish on this very easy potato recipe.

Potato Cheese Casserole
Tartiflette is a wonderfully easy dish made with French Reblochon cheese and bacon. This recipe from the Savoy region is designed to satisfy healthy mountain appetites.

Potato Leek Soup Recipe
This famous Vichyssoise soup can by served either hot or cold. The leeks add just enough flavor to make this delicious potato recipe perfect for winter and summer as well.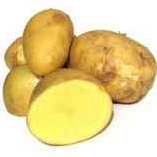 Scalloped Potatoes Recipe
A recipe known all over the world, this might be called Gratin Dauphinois in France. A lusciously rich layered potato dish that goes well with so many things or just enjoy it by itself with a salad.