French Potato Recipes
Easy French Potato Recipes
French potato recipes include dozens of ways to fry a potato, but it is not all just frites here in France. Try creamy gratin dauphinois (hearty enough to make a meal by itself), cheesy aligot, or wonderful tasting Tartiflette - a sure crowd pleaser. Potatoes are a classic accompaniment to meat in French cooking, but you will also find them featured in some recipes that are meant to be enjoyed on their own.

Almond Potato Croquettes
Mashed potatoes mixed with almond meal and egg yolks then dredged in sliced almonds are deep fat fried to make pommes de terre amandine. These make a nice accompaniment to any dish that has a little sauce.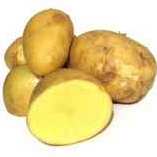 Cheesy Mashed Potatoes
Aligot is a speciality of the Auvergne region where you might find it made with great fanfare in a local restaurant. With the easy recipe here, you can try your hand at making this French speciality at home.

Garlic Mashed Potatoes
Boil potatoes with peeled garlic then mash with crème fraîche for fabulous mashed potatoes that go with just about anything.

Hot Potato Salad
This recipe comes from the Champagne region, although there are many version in eastern France and Germany. Tasty greens and salty bacon mix with warm potatoes and a vinaigrette, making a yummy winter salad.

Mashed Potato Casserole
Hachis Parmentier is French comfort food. A layer of ground meat and vegetables is topped with mashed potatoes and a sprinkle of cheese then baked for a short while. Perfect with a green salad.

Oven French Fries
Satisfy your cravings without adding a lot of fat into your meal or fuss into your kitchen time. Change the seasonings as you wish on this very easy potato recipe.

Potato Cheese Casserole
Tartiflette is a wonderfully easy dish made with French Reblochon cheese and bacon. This recipe from the Savoy region is designed to satisfy healthy mountain appetites.

Potato Leek Soup Recipe
This famous Vichyssoise soup can by served either hot or cold. The leeks add just enough flavor to make this delicious potato recipe perfect for winter and summer as well.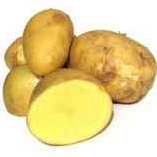 Scalloped Potatoes Recipe
A recipe known all over the world, this might be called Gratin Dauphinois in France. A lusciously rich layered potato dish that goes well with so many things or just enjoy it by itself with a salad.
Classic French Potato Recipes
It may be surprising for you to hear that potatoes were once shunned by the French, who believed them to be unfit for human consumption. It was only thanks to the brillant marketing of one man, Antoine-Augustine Parmentier (1737-1813) that the potato finally gained popularity in the 18th century. Here you can learn more about the history of French fries.
Fortunately France's chefs have been hard at work on the spud ever since and there are any number of classic French potato recipes that you will find over and over again on restaurant menus as well as on the table at home.
Here is a little glossary of these French potato dishes.
Allumettes

- McDonald-sized (sorry!) French fries.

Anna

- Thinly sliced potatoes, layered with butter and baked until soft on the inside and crispy on the outside.

Berny

- Pommes duchesse with bits of truffle.

Château

- Pared into the shape of a large olive, boiled, then fried in butter. This is a classic accompaniment to châteaubriand steak.

Croquettes

- Mashed and combined with various ingredients, then breaded and deep fried.

Dauphine

- Mashed, mixed with choux pastry dough, formed into dumplings and fried.

Duchesse

- Mashed, mixed with egg, piped through a pastry bag, then baked.

En robe de chambre

or

en robe des champs

- Cooked in their skin.

Frites

- The ever beloved French fry.

Galette

- Grated and formed into cakes, then fried. French version of rôsti.

Gaufrettes

- Very thinly sliced in a waffle pattern and deep fried.

Gratin Dauphinois

- Scalloped potatoes. Thinly sliced, layered with cheese, milk, and a little egg, then baked.

Lorette

- Mashed and combined with choux pastry, then piped and deep fat fried.

Lyonnaise

- Sliced and sauteed with onions in butter.

Maître d'Hôtel

- Boiled, sliced, sauteed with butter, then sprinkled with parsley.

Mousseline

- Very smooth mashed potatoes.

Nature

- Simply boiled or steamed.

Nids

- Nests of deep fried grated potatoes.

Noisette

- Fried balls the size of a hazelnut.

Paille

- Matchstick thin French fries.

Parmentier

- This term might be applied to any dish that includes potatoes.

Persillées

- Boiled or steamed and tossed with chopped parsley.

Pont Neuf

- Classic French fry, a little thicker than an allumette.

Purée

- Mashed.

Rissolée

- Sauteed (typically cubed or diced).

Rösti

- Specialty of Switzerland. Grated and formed into cakes, then fried.

Sarladaise

- Sauteed in duck or goose fat and sometimes including truffles.

Soufflées

- Sliced thinly, then deep fried twice so that they puff up.

Vapeur

- Steamed.
New!

Comments

Have your say about what you just read! Leave me a comment in the box below.