Chocolate Lava Cake Recipe
This warm chocolate lava cake recipe is a sure fire hit with chocolate lovers and a very popular dessert on French tables. Served in individual ramekins, you can dress this easy cake up as elegantly as you wish. Moelleux au chocolat gets its name because it has a soft (moelleux), sweet center.
Recipe Notes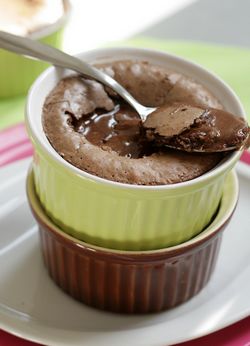 Cooking times can vary for this recipe. I give an average cooking time here, but your results may vary and you may want your cakes more or less cooked. Personally I don't like too gooey a result and tend to cook them a bit longer. Since baking time is so short, I recommend doing a test run with one of the cups to see how things turn out in your own oven.
Use very fresh eggs for this recipe. I don't think the eggs are technically cooked given that the interior of the cake is gooey, so you need to be careful.
Make now, bake later. You can make the batter early in the day and fill the buttered baking cups with it, then cover these in plastic wrap and refrigerate until you are almost ready to serve. Remove them from the refrigerator and allow the batter to come to room temperature as the oven is heating. Remove the plastic wrap, then bake according to the recipe directions. You can time it so the desserts have about 5 to 10 minutes to cool before serving.
Serving sugggestions. This rich chocolate lava cake recipe is often served with whipped cream, crème anglaise, or even vanilla ice cream. I don't feel it needs it, but you may enjoy decorating with one of these.