Yule Log Cake Recipe
This yule log cake recipe is one of the simplest ways to make a luscious, rich bûche de Noël at Christmas time. Fashioned to look like a yule log, a bûche de Noël is most times just a jelly roll dressed up for the holidays.
Noël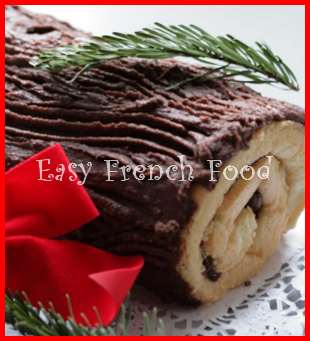 If you come to France in December, you will find people eating many different sorts of this "classic" dessert (which is actually a fairly modern take on the French yule log tradition).
These days in France you can find a yule log cake recipe in any flavor that might suit your fancy. There have even been chefs that have dreamed up savory bûche de Noëls, served as an entree, but a more down to earth yule log cake recipe might use:
Ice cream. I suspect that this is what a lot of French people will be having this year if my grocery store freezer section is any indication.
Chestnut Puree. Usually a very rich mixture of chocolate, butter and sweet chestnut cream.
Genoise Cake. This is a very light airy cake that rolls up nicely without breaking. It is made with an incredible variety of fillings. The French favor chocolate, vanilla, praline, orange liqueur, and coffee flavors but the only limit is your imagination.
My Yule Log Cake Recipe
I made quite a few bûche de Noëls, testing which would be the best yule log cake recipe to share with you. One I made had French buttercream frosting, but although this was absolutely delicious, it was just too rich I believe.
So here's my compromise: an easy (don't be afraid, you can do it) genoise cake with very easy chocolate buttercream frosting, which I find more digestable then the French version. You'll need a jelly roll pan to successfully make this yule log cake recipe.