Yule Log Cake Recipe
This yule log cake recipe is one of the simplest ways to make a luscious, rich bûche de Noël at Christmas time. Fashioned to look like a yule log, a bûche de Noël is most times just a jelly roll dressed up for the holidays.
Noël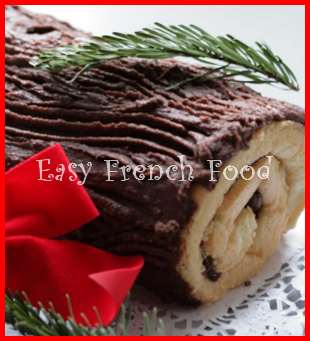 If you come to France in December, you will find people eating many different sorts of this "classic" dessert (which is actually a fairly modern take on the French yule log tradition).
These days in France you can find a yule log cake recipe in any flavor that might suit your fancy. There have even been chefs that have dreamed up savory bûche de Noëls, served as an entree, but a more down to earth yule log cake recipe might use:
Ice cream. I suspect that this is what a lot of French people will be having this year if my grocery store freezer section is any indication.
Chestnut Puree. Usually a very rich mixture of chocolate, butter and sweet chestnut cream.
Genoise Cake. This is a very light airy cake that rolls up nicely without breaking. It is made with an incredible variety of fillings. The French favor chocolate, vanilla, praline, orange liqueur, and coffee flavors but the only limit is your imagination.
My Yule Log Cake Recipe
I made quite a few bûche de Noëls, testing which would be the best yule log cake recipe to share with you. One I made had French buttercream frosting, but although this was absolutely delicious, it was just too rich I believe.
So here's my compromise: an easy (don't be afraid, you can do it) genoise cake with very easy chocolate buttercream frosting, which I find more digestable then the French version. You'll need a jelly roll pan to successfully make this yule log cake recipe.
Bûche de Noël
Prep time: 40 minutes with assembly
Bake time: 10 min
Ingredients
4 eggs (these have to be at room temperature)
2/3 cup sugar
1 teaspoon vanilla
1 cup cake flour (sifted before measuring)
Directions
Butter a 10 X 15 inch jelly roll pan. Line with parchment paper and butter that as well. Preheat oven to 400° F.
In a mixer (a hand mixer and sturdy deep bowl work as well), beat the eggs until they are very thick and light colored (this takes about 7 minutes). Continue beating and add the sugar in 1 tablespoon at a time, allowing each spoonful to mix in before continuing with the next. Beat in the vanilla as well.
Stop the mixer and sift 1/2 cup sifted cake flour on top of the batter. Using a spatula, gently stir the flour into the batter. Sift the final 1/2 cup flour on top and then very gently fold this into the batter. You want to stop as soon as all the flour is integrated into the batter. This will give you a light and airy cake.
Pour and spread the batter into the prepared pan and bake for just 10 minutes. Do not overbake or the cake will be too stiff to roll without breaking.
As soon as you take it out of the oven, turn the cake out onto a clean dishtowel (I've seen people recommend that you put powdered sugar on the dishtowel so that it doesn't stick, but I don't find this necessary). Remove the parchment paper and allow the cake to cool for a couple of minutes. While it is still warm, roll the cake up from one of its short ends with the dishtowel inside (this way the cake gets used to being rolled and won't tear when you fill it and roll it back up). Allow the cake to cool completely.
Unroll the cake, and spread about 1/2 of the chocolate buttercream (recipe below) evenly on top. Carefully roll the cake back up and neatly place on your serving dish, seam side down.
Optional: To enhance the yule log effect, cut off the ends at an angle and use these to create stubs on the log (they're supposed to look like cut off branches), attaching them with some buttercream.
Frost the outside of the log and, using a fork, trace irregular lines in the frosting to give it a woody effect. Refrigerate the cake for 20 minutes to set the frosting, then cover loosely with plastic wrap and allow it to "age" in the refrigerator for several hours or overnight.
Before serving, decorate your cake however you wish. I'm sure you have some cute little Chrsitmas ornaments that will do the job. In France you might find Santa Claus, an ax or a saw, mushrooms (made from meringue), or elves dancing on the cake.
Chocolate Buttercream Frosting
Ingredients
1/2 cup soft unsalted butter
3 1/4 cups powdered sugar
1/2 cup unsweetened cocoa
1/8 teaspoon salt
1 teaspoon vanilla
1/4 cup buttermilk
Directions
Whip the butter in your mixer until is is light and creamy. Sift together the sugar, cocoa and salt and add this to the butter. Beat until well mixed then add the vanilla and buttermilk. Beat until very smooth. This makes just the right amount of buttercream for the yule log cake recipe above.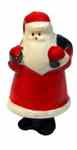 Related Recipes
Reader Photos
2009. I was so pleased that a reader sent me a photo of their Yule cake. She used the above recipe, but as you can see, she fancied it up very nicely with some meringue mushrooms, a traditional French decoration. Bravo chère lectrice.
2010. Maybe this will become a whole photo gallery! Here is the recipe as interpreted by Peter Marshall, who by the way, has an excellent website about formal dressing for men: blacktieguide.com. (My son said "Wow, did you take that?" when he saw the photo. Oh well!)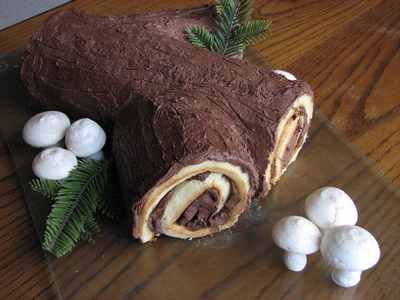 2011. Yahoo, the tradition continues. This reader added a lot of meringue mushrooms - I bet the kids just loved it!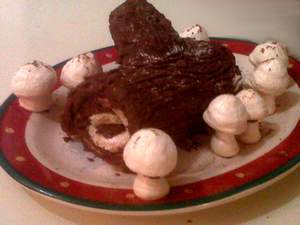 New!

Comments

Have your say about what you just read! Leave me a comment in the box below.