Salmon Mousse Recipe
Easy French Appetizer Spread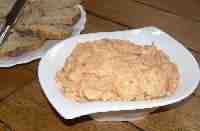 This salmon mousse recipe calls for smoked salmon. Smoked salmon is very popular in France as a special holiday food served at Christmas and New Years Eve celebrations. However, it is available throughout the year and frequently appears in recipes.
Up until the 18th century, salmon was one of the most commonly eaten fish in Europe. With the Industrial Revolution came the pollution of many of the rivers, which effectively eliminated wild salmon in these waters. Nowadays most of the salmon sold and eaten in France is produced on fish farms. It is commonly presented sliced thinly and vacuum packed
You will want to choose smoked salmon that is as fresh as possible. It should be free of any dark spots or edges. Avoid buying a product that has been frozen and, needless to say, respect the expiration date scrupulously.
Serving suggestions
As an appetizer: Smoked salmon can be sliced and served as is on small squares of toast or blinis, perhaps with a squirt of lemon juice.
It also goes very well with cold asparagus and can be a nice addition to a tossed salad.
The following salmon mousse recipe is an easy make-ahead spread, that you can serve as an appetizer with crackers, or toasted rye bread.
Because this recipe calls for uncooked egg yolks, you will want to use very fresh eggs (less than 5 days old) and make sure the mousse is eaten quickly after removing it from the refrigerator.
Mousse de Saumon Fumé
Makes 1 1/2 cups
Ingredients
12 ounces smoked salmon
1/4 cup heavy cream
2 egg yolks
1 tablespoon lemon juice
1 tablespoon minced fresh sorrel or dill
Directions
Blend all ingredients to form a smooth puree in a blender or food processor. Arrange on a serving dish, forming mousse into an attractive shape.
Refrigerate at least 30 minutes and remove from refrigerator just before serving.
Smoked Salmon
Scotland

- reputed to produce the highest quality salmon, along with Ireland.

Ireland

- which shares a good reputation along with Scotland.

Norway

- produces a paler salmon.

Denmark

- produces a fattier salmon.

Canada

- produces a salmon that is more red and drier.
New!

Comments

Have your say about what you just read! Leave me a comment in the box below.