Canneles Bordelais
Canneles Bordelais are crunchy little rum cakes that originated in the Bordeaux region of France (when something comes from Bordeaux, it is called Bordelais). They require a tiny bit of patience and planning, but the results are so knock out delicious that it is well worth the effort.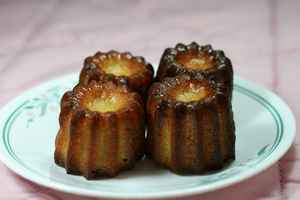 Silicon Cannele Pans
There may be some resistance amongst traditionalists to use these new-fangled molds, but for nearly guaranteed good results for the casual home baker, silicon cannele pans can't be beat. You needn't bother buttering these pans and your canneles will slip right out when done.
Since canneles take quite a while to bake, I recommend you buy two pans. That way you can bake a batch of 16 caneles (recipe below) all at once. There are also smaller cannele molds that make more of a petit-four sized cannele - great for mouth popping convenience. Cooking times will of course be shorter for these.
So that I don't leave you loopy dedicated bakers out of the equation, let us not forget the traditional copper cannele mold. You could argue that it gives a crunchier exterior, and a more authentic canelle experience. If the price for one doesn't scare you, don't forget you'll probably want at least eight!
Cooking Canneles
A good cannele should be lightly crunchy and a very dark brown on the outside with a creamy crepe-like consistency on the inside. It does take a bit of work to get this effect, and attention must be paid in cooking these, but you will be well rewarded for your efforts. Follow these tips:
Let the batter chill at least 24 hours.
If you are using metal molds, carefully coat the interior with melted butter using a pastry brush.
Fill the molds almost to the top (within 1/16 inch).
Start with a very hot oven to get the crunchy exterior and then lower the temperature to slowly bake the interior. Remember that all ovens are individuals and you may need to adjust temperature and times to accommodate yours.
Don't freak out when the bottoms turn very brown - these cakes need to stay in the oven for a while to cook through. You can cover the pan with a sheet of parchment paper if the bottoms look like they are actually burning.
Cannelés Bordelais
This recipe is for baking in 2 inch high silicone molds. Adjust for your size and type of mold. (Metal molds need to be thoroughly coated with melted butter.)
Prep time: 15 min
Cook time: 1 hour 15 min
Makes 16, 2-inch high canneles.
Ingredients
2 cups milk
3 tablespoons butter
1 vanilla bean or 1 teaspoon vanilla extract
2 eggs + 2 egg yolks
1 cup sugar
1 cup flour
1/4 cup rum
Directions
In a small saucepan, warm the milk, butter, vanilla and salt on medium heat until the butter melts and the milk comes to a simmer. (If you are using a vanilla bean, split it lengthwise before adding it and remove it after simmering the milk.) Remove from heat and allow to cool for several minutes.
Meanwhile, stir the flour and sugar together in a mixing bowl. Lightly beat the eggs and yolks and pour on top of the flour mixture. Pour the warm milk on top and whisk all of the ingredients together until you have a smooth batter. Whisk in the rum.
Now the batter needs to sit covered for at least 24 hours in the refrigerator. A handy way to do this is to pour the batter into a clean empty bottle. Filling the molds will be a snap if you do.
The next day, place a small metal grill that can hold your silicone mold in the oven (this helps with moving the floppy mold in and out of the oven), and preheat the oven to 480° F. Pour the chilled batter into the silicone molds filling each cup within 1/16 inch of the top. Place on the hot metal grill and then in the hot oven. Bake for 15 minutes and then lower the oven temperature to 350° F and bake for 1 hour.
Cool and then remove from pan.
Canneles - Origin
The officially recognized spelling is with only one n (canelé), but it is commonly spelt with two, so I'll stick to that. Note also that the French spelling is cannelé - that final accent means the word is three syllables pronounced cah-nah-lay (please excuse my phonetics).
The exact origins of the cannele is cloaked in mystery and open to considerable speculation, only adding to its allure and popularity. Legend has it that a group of nuns many centuries ago made a cake called a canelas to feed the poor. It was then considerably later that a Bordelais pastry baker concocted the modern cannele.
It would seem logical that the name derives from the shape of these cakes, which have small channels running up and down the sides. They have enjoyed waxing and waning popularity in France over the years and currently they seem to be getting a lot of attention. Even my mass-producing grocery store bake shop is cranking them out everyday.

Baba au Rhum


Chocolate Paves


Gâteau Nantais
Want to learn more about the foods in the area around Bordeaux? You will find them featured in this back issue of La Marmite: The Food of Gascony.
New!

Comments

Have your say about what you just read! Leave me a comment in the box below.