Tea Cake Recipe
Orange Flower Water Navettes
The tea cake recipe here is for individual pastries called navettes, a word which means boat amongst other things in French. They are said to represent the boat on which Saint Mary Magdalene and Saint Martha were riding when they touched shore in Provence 2000 years ago.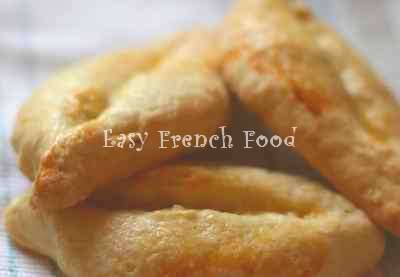 This particular version contains orange flower water, but you can find navettes flavored differently and even mass marketed with a dollop of jam or chocolate in the center.
Saint Victor navettes have been made in the city of Marseille near the Saint Victor Abbey for more then two hundred years. Traditionally the people of Marseille buy them by the dozen (one for each month of the year) and eat them for the celebration of Chandeleur on the second of February.
This tea cake recipe makes exactly two dozen navettes.
Navettes de Saint Victor
Preparation Time: 30 minutes
Baking time: 20 minutes
Makes 24 navettes.
Ingredients
6 tablespoons butter, softened
3 1/2 to 4 cups flour
1 cup sugar
1/2 teaspoon salt
3 eggs, plus one yolk
2 tablespoons orange flower water
1/2 cup water
1 teaspoon milk
Directions
In a food processor or mixer, cream the butter until fluffy. Add 3 1/2 cups flour, sugar, salt, eggs, flower water and water. Mix until completely combined. The dough should be stiff, just beyond sticky, so that you can handle it without it sticking all over you. You may need to add a bit more flour to get there.
Gather the dough in a ball and divide it in two. Divide each halve into halves and then once more so that you end up with eight balls of equal size. Each of these should be further divided into three balls so you end up with a total of 24.
Roll each ball into a cylinder shape about three inches long. Place these somewhat spaced apart on a non-stick baking sheet (or a greased regular one). Flatten each cylinder somewhat and pinch the ends to form a boat shape. With a sharp knife, slit the boat down the center stopping at about an 1/8 inch from each end.
Leave the boats to rest for two hours at room temperature. When you are ready to bake, preheat the oven to 350 degrees Fahrenheit Beat the egg yolk with the milk and paint the tops of the boats with this. Bake the navettes for 18 to 20 minutes or until golden on top.
When I made these tea cakes recently, I wanted to serve them for dessert rather than tea, so I whipped up this delicious and easy Mascarpone cream and served it alongside the navettes. My family was crazy for it.
Orange Scented Mascarpone
Ingredients
8 ounces mascarpone cheese
1/2 cup sugar
1 tablespoon orange flower water
Directions
Blend all ingredients and serve.
New!

Comments

Have your say about what you just read! Leave me a comment in the box below.