Cream Puff Cake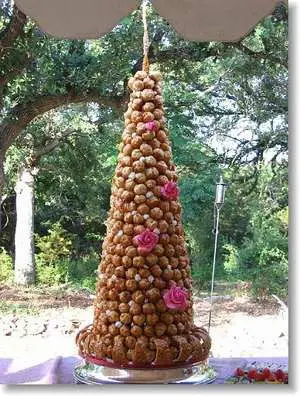 Croquembouche
This fabulous, towering French cream puff cake is called a croquembouche - as delicious as it is gorgeous. Just right for your next celebration?
Question: I read about a celebratory creme puff w/carmel or chocolate topiary shaped stack with a spun sugar bow.. served at most family?? functions... can anyone help me find this information...! thanks!!
Answer: Hi Jill, Thanks for your question!
This is one very popular French cake that you will often find served at weddings, christenings and first communion parties. Cream filled choux pastry puffs are stacked in an elaborate pyramid that is held together by spun, lightly caramelized sugar. The tower is further decorated, often with French dragees, which you may know as Jordan almonds.
A croquembouche gets its name from the crunchy caramel that holds it together. Croquembouche literally means crunch in mouth. The spun sugar contrasts delightfully with the soft cream puffs and the decorations add another dimension. A croquembouche is not only fantastic to look at, it is delicious as well.
Variations on the traditional cone shape are more and more popular these days and you can imagine that people can get quite creative with this. Sort of like stacking blocks.
A large croquembouche can be a difficult undertaking, so for most formal occasions a pastry chef will be in charge of its creation. Typically a pastry chef will use a cone pastry form at the interior of the construction and build the cream puff cake around this.
If you're not looking for perfection, making your own croquembouche could be a fun project. You can start ith this cream puff recipe. Results can at times be comical with the tower taking some unexpected turns. Here is a good explanation of how to make a croquembouche.
Croquembouche photo provided by Simon Lee Bakery.

Return to French Food Questions.