French Sauce Recipes
Hollandaise, Tartar, Bechamel and More
French sauce recipes include a large variety of hot and cold emulsions, roux based sauces, and many others. Mastering a few basic sauces will put most of the others within your culinary reach. And who could imagine French cuisine without sauces?
Warm Sauces
Bearnaise A yummy tarragon flavored hot emulsion that you could lap up on steaks or even fish.
Bechamel Sauce - Perhaps the most fundamental of all French sauces, this begins with a mixture of melted butter and flour to which milk is gradually added.
Beurre Blanc Sauce - White butter sauce sauce will graciously add a touch of richness to plain fish and steamed vegetables.
Blue Cheese Sauce - Made with French Roquefort cheese (you can substitute another blue cheese), this sauce is divine on grilled steaks.
Brown Sauce - One of the most basic of sauces, this can be used as the starting point for a variety of other sauces. Best on meats.
Cheese Sauce - A bechamel sauce recipe to which you add cheese at the end. Used to make au gratin dishes.
Dill Sauce - The perfect sauce for salmon, but you could try this on just about any fish, or even as a topping for steamed vegetables.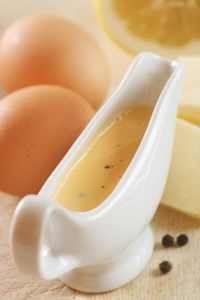 Fresh Tomato Sauce
- A fabulous taste that can be used as a topping for pasta, vegetable fritters, or just about anything you wish.
Hollandaise - A classic accompaniment to poached eggs as well as asparagus, this is a lemony flavored hot emulsion.
Onion Sauce - Another bechamel, but this one starts with browned onions as a base.
Orange Sauce - - Similar to a Hollandaise sauce, this is made with blood oranges instead of lemon juice.
Red Wine Sauce - Adding red wine to a basic brown sauce gives you Bordelaise sauce, a delicious accompaniment to a variety of meats.
Tomato Cream Sauce - A white sauce enriched with cream and tomato paste. Perfect for a simple pasta dish.
White Sauce - One of the most basic sauces, this is like a bechamel sauce except that it is made with chicken stock rather than milk.
Cold Sauces
Aioli Recipe - This is mayonnaise made with some crushed garlic and olive oil. A fabulous sauce that goes with so many things. Once you start eating it, it's hard to stop!
Mayonnaise Recipe - Learning to make mayonnaise is just a little tricky, but once you understand the principle behind a cold emulsion, you'll have no problem. Beats store bought mayonnaise hands down.
Rémoulade Sauce - This is the sauce used to make the classic French salad: céleri rémoulade. Also good with fish and meats.
Tartar Sauce Recipe - A sister of rémoulade sauce, the French version is likely to contain chopped hard boiled eggs and a variety of fresh herbs. Great with both hot and cold meats and fish.
Vinaigrette Recipes - Once you know the basic for creating vinaigrettes, you can vary the recipe endlessly to suit your needs and tastes.
Dessert Sauces
Custard Sauce - A basic French dessert sauce, vanilla flavored crème anglaise can be poured on top of cakes, fruits and puddings.
Raspberry Sauce - A luscious fruit coulis that can be poured on top of any numpber of desserts to give them extra great taste.
Learn more about French sauces on EFF.
Return to Easy French Recipes.
New!

Comments

Have your say about what you just read! Leave me a comment in the box below.