Easy Recipes For Kids
Teach your children French cooking
You will find a list of easy recipes for kids here at Easy French Food because we have a resident kid chef, Max, who is eager to share his recipes and tips with you. Max is our 10 year old son and the youngest in the family.
For years I resisted cooking with the kids. Every once in a while I'd let them create something, usually along the lines of Harry Potter inspired bierre beurre or sea biscuits, which were supposed to last for years on board ship. But I never really encouraged them.
I think I was afraid of the mess. I already had enough of those going in other parts of the house. I needed my kitchen to be in some sort of reasonable order I suppose. But then Max came along and he so much likes to cook, that I just couldn't resist him. It would have been unnatural. And the amazing thing I found out, it's fun to cook with a kid! Especially a kid that really wants to learn to cook. And as for the mess? We clean it up as we go. If he's stirring, I'm washing out a bowl. If I'm chopping, he's putting an ingredient away.
Things Max has learned along the way:
How to use a knife.
How to read a recipe.
Improved his math skills (we're always going back and forth between French recipes and Mom's attachment to cups and tablespoons).
Heightened his appreciation of food. He loves to guess the ingredients in a dish now.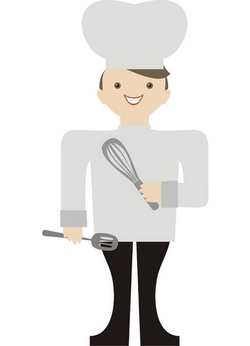 Max's Kitchen Rules for Kids
Always wash your hands before preparing food.
Start out with easy recipes for kids and work your way up.
Read your recipe from start to finish and understand all of the words before proceeding.
Get out all of the ingredients you will need before starting.
It takes a while to learn how to use a knife and it can be nerve wracking for Mom or Dad to watch, but everyone has to start somewhere. Begin with things that are easy to cut and a small knife.
Learn the correct way to turn on the stove and oven. Help your kids out with this until you feel comfortable letting them do it on their own. I still take things out of the oven for Max because I sense he doesn't have the needed confidence yet. (Says his mom who spilt a bowl of hot onion soup all over the floor the other night.)
Pick up after yourself, that means putting all of the ingredients away where they belong, putting the dirty dishes in the dishwasher, and wiping the counter top.
Max loves to cook using easy recipes for kids and he especially loves to share his creations with his family. It is a very proud moment for him, and me too!
Max's French Recipes for Kids
Here are a few of the French recipes we've had success with. We'll be adding more easy recipes for kids as Max's repertoire expands.
Cherry Clafoutis Recipe - A clafoutis is a very simple French dessert made from fresh fruit and a little custard.
French Yule Log - Easy Christmas recipe made with yummy sweetened chestnut puree.
Chocolate Tart Recipe - This is a very simple tart filled with chocolate ganache and decorated with candy. Sure to please everyone.
Easy Baked Fish - Learn how to cook using the French technique called en papillote. It's easier than you think!
Easy Brownie Recipe - Called Le Choco Fondant in French, these are basically brownies with a nice French name.
Easy Rice Pudding Recipe - You'll find rice pudding recipes all over the world. Here's a simple French style rice pudding, easily fixed by beginning chefs.
French Flan Recipe - What a great way to get your calcium!
Meringue Cookies - Super simple and a good start to learning the basic cooking technique of meringue making.
Oven French Fries - Everybody is going to like these frites au four- the no mess, low fat alternative to deep fat frying.
Sauteed Mushrooms - Called La Poelée du Bois in French, this sautéed mushroom and bacon dish is good for lunch.
Spaghetti Squash Recipe - Make spaghetti magically appear from squash, then bake it au Gratin for guaranteed kid pleasing results.
Return to Easy French Recipes.