French Pastry Recipes
Dough, Fillings and Combinations
French pastry recipes may appear daunting at first glance, but by learning how to make a few basic fillings and dough, you will have the tools needed to create any number of elegant French desserts. As always on Easy French Food, these preparations are presented in unfussy, easy to follow recipes.
Pastry Dough
Beignet. All over France you will find different versions of this fried, yeast risen pastry. It is a very forgiving introduction to making French pastries.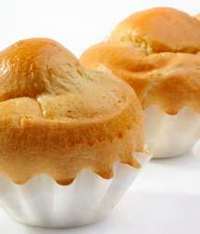 Brioches.
Brioche. This is an airy, slightly sweet bread made with eggs and yeast. To get good results, the dough requires a lot of kneading, which can make the recipe difficult. The key to making it easy is to use a stand mixer with a dough hook.
Choux. Used to make cream puffs, chocolate eclairs and a whole lot of other French pastry recipes, choux pastry is simply made from warmed milk, flour and eggs. Mixing the dough requires a strong arm but nothing too exhausting. With a little care in baking, good results are easy to attain. Choux pastry.
Meringue. This is the basis for making macarons, but also may be baked into a disc and used as a layer in cakes. The simplest use of meringue is to make cookies that are crisp on the outside and give way to a wonderful sticky mouthful.
Pâte brisée . A classic tart dough, pâte brisée might be savory or sweetened a little for use with fruit or other dessert tarts. Unlike pie dough, the final result should be crispy rather than flaky. Using a food processor guarantees good results every time. Pâte brisée recipe.
Pâte sablée . Commonly used to make a tart crust or perhaps cookies, this dough contains quite a bit of sugar and usually some egg. It can be a bit harder to work with than pâte brisée, but the results are always yummy.
Pâte feuilletée . Butter is layered into a flour and water dough to create pâte feuilletée which is basically what you might call puff pastry. Croissant (or more broadly viennoiserie ) dough is a sort of pâte feuilletée that includes yeast. Puff pastry dough recipe.
Phyllo dough and brik. These are very thin sheets of dough that occasionally find their way into French pastry recipes. Probably best to buy these ready made, rather than attempt them at home, which could prove to be quite tricky.
---
Pastry Fillings and Ingredients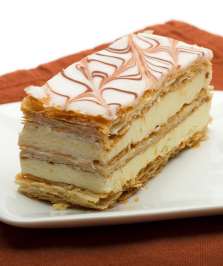 Mille-feuille filled with
pastry cream and iced with fondant.
Buttercream Frosting. French buttercream (crème au beurre ) is totally smooth and very rich. A hot sugar syrup is gradually incorporated into beaten eggs then combined with softened butter. Any number of flavor variations are possible.
Chocolate Ganache Don't hesitate to try this one. Ganache is dead easy and makes a great frosting, icing or filling depending on how you mix it. Chocolate ganache recipe.
Fondant. Usually made simply from sugar, glucose, water and some flavoring, this might be used to ice choux pastries, cakes, or mille-feuilles. It can be a bit tricky to learn to make correctly.
Frangipane. This is a mixture of butter, sugar, ground almonds and eggs. It made be used as is, for example to fill this king cake recipe, or it may be combined with pastry cream to fill other French pastry recipes.
Pastry cream. Crème patissière is basically a custard that is prepared on the stove top. More or less thickened, and made with different flavors, this is used to fill eclairs, tarts and layer cakes. Pastry cream recipe.

---
French Pastries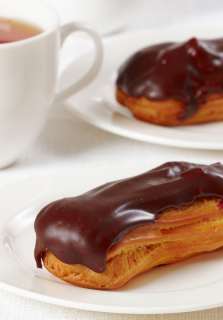 Chocolate eclairs.
Chaussons. Made with either pâte feuilletée or pâte brisée , these turnovers typically contain an apple compote.
Chocolate Eclairs. Choux pastry is baked in logs then filled with pastry cream and topped with chocolate fondant. Chocolate eclair recipe.
Mille-feuille. An elegant layered pastry, sometimes called a Napoleon. This is typically three layers of pâte feuilletée , filled with pastry cream and topped with fondant icing.
Petits Fours. This might refer to any bite sized sweet pastry, but typically might be a square of sponge cake decorated with French buttercream or fondant.
New!

Comments

Have your say about what you just read! Leave me a comment in the box below.