Prune Cake Recipe
Far Breton is the name of this very easy prune cake recipe. It is a specialty of the Brittany region (or La Bretagne) of France. You will be very pleased with how quick it is to go together and that it is a relatively healthy sort of dessert, lower in fat than many, and including delicious prunes, which, as you probably know, get glowing nutritional reviews.
Recipe Notes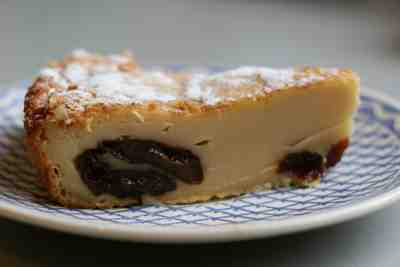 La Bretagne
Brittany is in the north west of France on the Atlantic seaboard. It occupies a peninsula of land with the Bay of Biscay to the south and the English Channel to the north. This rugged coastal region bears a distinct Celtic flavor in its traditions, language and food, testimony to its proximity to Britain. It is a land that has been peopled by fishermen and their families for centuries.
Les Pruneaux
In France, plums are known as prunes and prunes are known as pruneaux. I am sure this has confused more than one English speaking visitor. Here in France we can buy luscious, plump prunes known as les Pruneaux d'Agen.
These days in France Agen prunes are distinguished by a sort of geographical designation given by the European Union. Only prunes made from a specific area can be marked pruneaux d'Agen and, as with most appellations, this should guarantee you a certain level of quality. These prunes are made from Ente plums that have been allowed to reach peak maturity on the tree and carefully dried to preserve the maximum of sugars. It is the quantity of sugar that determines the juiciness and tastiness of the prune.
Although I do recommend them, you don't need to use Agen prunes to make this prune cake recipe. Do be sure you use quality prunes however. They should be plump, shiny and juicy. If you'd like, serve your Far Breton with sparkling apple cider as it is often done in Brittany.
French Prune Cake

Far Breton
Preparation Time: 15 minutes
Baking time: 30 minutes
6 to 8 servings
Ingredients
1 3/4 cups flour
4 eggs
3/4 cup sugar
1 teaspoon vanilla extract
3 cups milk
2 tablespoons butter
10 ounces prunes, rolled in flour
powdered sugar (optional)
Directions
In a food processor or mixer, blend together the flour and eggs until smooth. Mix in the sugar and vanilla and blend well. Finally slowly add the milk and mix well to make a smooth batter. Let the batter sit for 30 minutes to an hour.
In the microwave, melt the butter in the bottom of a two quart or so baking dish. Tip the pan and swirl the butter so that it coats evenly the bottom and sides. Pour the batter into the pan and add the floured prunes (the flour should help to keep the fruit from sinking to the bottom, but if they are large, they'll sink anyway. Don't worry, it still tastes great).
Bake for 30 minutes at 400° F. Turn the oven off and leave the cake in the oven for 30 more minutes.
We like this prune cake recipe best when warm, maybe two hours after it has come out of the oven. However, it is also good cold and makes a nice breakfast if you have leftovers. You can sprinkle the top with powdered sugar after the far has cooled some.
VARIATIONS
Use a mix of raisins and prunes for the fruit.
Soak the fruit in hot weak tea for a couple of hours. This is especially recommended if you are using drier prunes. The ones we get from Agen are so moist and plump, I don't bother with this, but it is frequently seen in French recipes.
Soak the fruit in brandy for a couple of hours. I haven't tried this, but I'm sure it adds an extra something especially if you like alcohol tastes in your desserts.
Le Far
Far is an odd French word. In a general sort of way it means cake. Although you can find other kinds of fars made in France (notably the far du Poitou, which is made with cabbage, spinach, eggs and a lot of other yummy things), this prune cake recipe is by "far" the most common. The far in this case is similar to a flan, but I would say it is more compact then other flans I have had.
More French Recipes
New!

Comments

Have your say about what you just read! Leave me a comment in the box below.