Prune Cake Recipe
Far Breton is the name of this very easy prune cake recipe. It is a specialty of the Brittany region (or La Bretagne) of France. You will be very pleased with how quick it is to go together and that it is a relatively healthy sort of dessert, lower in fat than many, and including delicious prunes, which, as you probably know, get glowing nutritional reviews.
Recipe Notes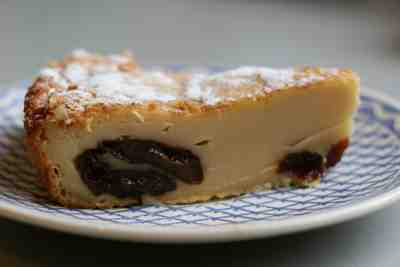 La Bretagne
Brittany is in the north west of France on the Atlantic seaboard. It occupies a peninsula of land with the Bay of Biscay to the south and the English Channel to the north. This rugged coastal region bears a distinct Celtic flavor in its traditions, language and food, testimony to its proximity to Britain. It is a land that has been peopled by fishermen and their families for centuries.
Les Pruneaux
In France, plums are known as prunes and prunes are known as pruneaux. I am sure this has confused more than one English speaking visitor. Here in France we can buy luscious, plump prunes known as les Pruneaux d'Agen.
These days in France Agen prunes are distinguished by a sort of geographical designation given by the European Union. Only prunes made from a specific area can be marked pruneaux d'Agen and, as with most appellations, this should guarantee you a certain level of quality. These prunes are made from Ente plums that have been allowed to reach peak maturity on the tree and carefully dried to preserve the maximum of sugars. It is the quantity of sugar that determines the juiciness and tastiness of the prune.
Although I do recommend them, you don't need to use Agen prunes to make this prune cake recipe. Do be sure you use quality prunes however. They should be plump, shiny and juicy. If you'd like, serve your Far Breton with sparkling apple cider as it is often done in Brittany.