Chocolate Almond Cake
Here is a moist and delicious chocolate almond cake recipe, known as a Reine de Saba in France. Reine de Saba means Queen of Sheba and I am afraid it is not clear where this cake got its name. After all, it is doubtful that the African Queen who lived some three thousand years ago ever even tasted chocolate!
Queen Julia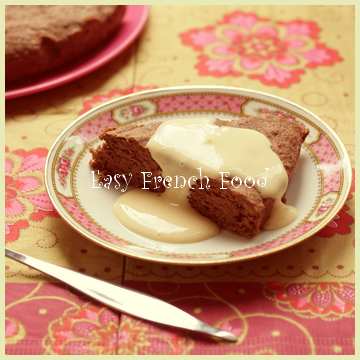 Reine de Saba has been enjoying a little popularity in the culinary blog world the past few months. Julia Child included a recipe for this cake in her epic cookbook Mastering the Art of French Cooking, and since Julia has been all the rage lately (with the release of the the movie Julie & Julia), a lot of people have given the recipe a whirl.
The cake is a little unusual in that it contains no leavening other than the stiffly beaten egg whites. Do not expect a huge high cake. This cake is rather dense and moist and a small piece is considered a serving.
Julia topped her chocolate almond cake with a chocolate icing, but here in France, a Reine de Saba is more likely to be served plain or with this custard sauce recipe (called crème anglaise) simply poured on top. My family is batty for crème anglaise, so that is the way I serve it.
Reine de Saba
Prep time: 25 min
Bake time: 20 min
Makes 6 to 8 servings.
Ingredients
5 ounces good quality, dark, semi-sweet cooking chocolate
1/2 cup very soft unsalted butter
1/2 cup sugar
3 eggs, separated and at room temperature
3/4 cup almond meal (finely ground almonds)
1/2 cup cake flour
Directions
Begin by seperatng the eggs, placing the whites in a spotless mixing bowl. Leave them out at room temperature for 30 minutes.
Prepare a small (8 inch) cake pan by greasing and then lining it with baking paper to insure a good release. Preheat oven to 350°F (180°C).
Using a double boiler arrangement, melt the chocolate over simmering water.
In a mixing bowl, cream the butter and sugar together with a wooden spoon until well combined and fluffy. Beat the egg yolks into the butter and sugar, then stir in the almond meal, the flour and the melted chocolate until everything is well combined.
Using a stand or hand mixer, beat the egg whites until stiff peaks form. Stir 1/4 of the beaten egg whites into the cake batter to lighten it up some, then carefully fold the rest into the batter. The batter is quite stiff so this can be difficult - do not worry, just do your best to not massacre the egg whites. Fold them in just enough to get a homogenous batter.
Scrape and push the batter evenly into the prepared pan and bake for 20 minutes. Remove from oven and let cool for 10 minutes, then turn out onto a rack to finish cooling.
More French Chocolate Cakes


Chocolate Charlotte


Chocolate Moelleux
Find more Easy Chocolate Dessert Recipes.
New!

Comments

Have your say about what you just read! Leave me a comment in the box below.