French Cookware and Bakeware
Here are some items of French cookware that could come in handy during your French cooking adventures. I personally have adopted all of these great kitchen tools and hope you will give some of them a try. Enjoy!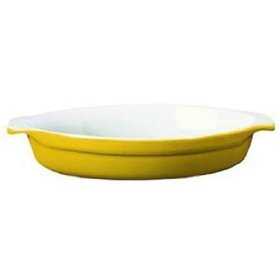 Au Gratin Dish
Au gratins are meant to be made and served in the same dish. Select from a wide range of shapes, colors and materials and add just the right touch to your dinner table.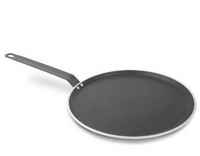 Crepe Pan
Learn about the different sorts of material these are made from and pick the right pan for you. While not an essential piece of French cookware, a good crepe pan can help you to more easily turn out perfect crepes every time.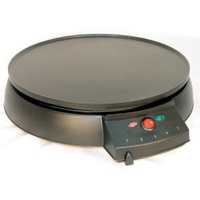 Electric Crepe Maker
If you are feeling intimidated by the prospect of making crepes, you might like to invest in one of these. There are several different models available and you don't have to spend a lot to get good results.


Espresso Coffee Cups
These cute little demitasse cups and spoons are not only great for serving your favorite beverage, you can also use them for desserts or verrines.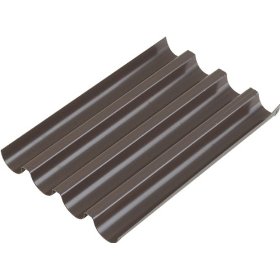 French Bread Pan
If you are serious about baguette making, you'll want to equip yourself with a quality French bread pan. Here you'll find Chicago Metallic Bakeware, Bourgeat Cookware and others.


French Onion Soup Bowls
Traditionally French onion soup is browned underneath the oven broiler. These special heat resistant bowls come in many attractive colors and can be used for serving and baking other things as well.


Madeleine Pan
Madeleine cookies are a very popular teacake that you will find all over France. A shell shaped pan allows you to easily make them at home.


Oil and Vinegar Cruets
These are great to have on the table filled with your favorite oil and vinegar. Makes dressing your salad or any other food easy and convenient. Plus they are really pretty.


Staub Cookware
For a country so enamoured of food, it is not surprising that France has many different manufacturers of quality cookware. Staub cookware is my favorite source for exceptionally high quality cast iron cookware.


Tart Pan
One French food you will find served in a multitude of fashions is the tart. A tart pan is shallower then a pie pan and bakes food in its own distinctive fashion.

New!

Comments

Have your say about what you just read! Leave me a comment in the box below.