Chocolate Mousse Cake Recipe
The French frequently make cakes without flour and this chocolate mousse cake recipe is a good place to start if you're curious about trying one. It is truly a fabulously simple recipe that gives knock out chocolately good results. Top with the raspberry sauce recipe, and you have a dessert fit for company!
Recipe Notes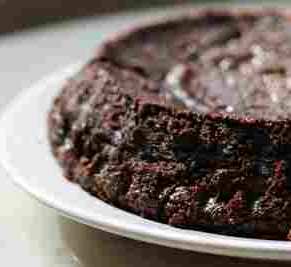 Allow plenty of time for this flourless chocolate cake recipe to cool. About three hours out of the oven and another three in the refrigerator.
The original recipe called for a springform pan, but I have always just used a regular non-stick cake pan and turned it over. If you do use a spring form pan, you will need to line it carefully with aluminum foil as the batter has a tendancy to leak through the cracks.
Do not be alarmed when the center of your cake falls. It's still going to taste great and I don't know how to stop this. The crater makes a great place to mound whipped cream or if you're feeling fancy, you could pipe this on with a pastry tube.
In addition to whipped cream, this chocolate mousse cake recipe comes with optional raspberry sauce. I've included a very simple recipe for this, but you could also use a good quality jarred suce. And if you want something extra special, do try this divine raspberry sauce recipe.
Easy Raspberry Sauce

Sauce aux Framboises
Ingredients
20 ounces of frozen red raspberries in light syrup
1/2 tablespoon kirsch (cherry flavored brandy) - optional
Directions
Partly thaw the raspberries than place in a blender or food processor and blend until pureed. Strain through a sieve to remove the seeds and place in a jar to refrigerate until serving time. Stir in the kirsch, if you're using it, at the last minute.