Chocolate Mousse Cake Recipe
The French frequently make cakes without flour and this chocolate mousse cake recipe is a good place to start if you're curious about trying one. It is truly a fabulously simple recipe that gives knock out chocolately good results. Top with the raspberry sauce recipe, and you have a dessert fit for company!
Recipe Notes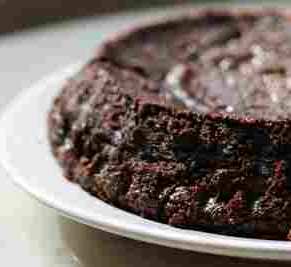 Allow plenty of time for this flourless chocolate cake recipe to cool. About three hours out of the oven and another three in the refrigerator.
The original recipe called for a springform pan, but I have always just used a regular non-stick cake pan and turned it over. If you do use a spring form pan, you will need to line it carefully with aluminum foil as the batter has a tendancy to leak through the cracks.
Do not be alarmed when the center of your cake falls. It's still going to taste great and I don't know how to stop this. The crater makes a great place to mound whipped cream or if you're feeling fancy, you could pipe this on with a pastry tube.
In addition to whipped cream, this chocolate mousse cake recipe comes with optional raspberry sauce. I've included a very simple recipe for this, but you could also use a good quality jarred suce. And if you want something extra special, do try this divine raspberry sauce recipe.
Chocolate Mousse Cake Recipe

Gateau Mousse au Chocolat
Prep time: 20 min
Bake time: 50 min
Chill time: 3 to 24 hours
Ingredients
1 pound unsalted butter
1 cup sugar
1/4 teaspoon salt
1 pound quality semisweet chocolate
1 cup coffee (freshly brewed)
8 large eggs (at room temperature)
2 cups sweetened whipped cream
1 cup Raspberry Sauce (recipe below)
Directions
Put all of the ingredients except for the eggs in a heavy saucepan and place on low heat. Heat and stir until everything has melted and is completely blended, then remove from heat.
Beat the eggs in a mixer (a hand mixer works great) until they are light colored and thick (about 3 minutes). Mixing all the while pour in the chocolate mixture in a thin steady stream. Continue mixing just until all is blended.
Pour the batter in a well greased 10 inch cake pan and bake at 350 degrees F for 55 minutes, or until a toothpick comes out clean when you poke it in the center.
Cool for five minutes, then run a knife around the edge to detach the sides of the cake from the pan. As it is cooling, you can push the edges toward the cneter. This helps to keep the cake from collapsing in the center.
Cool completely to room temperature - this takes at least an hour. Remove from pan by turnig it over on a serving plate. Cover with plastic wrap and refrigerate for at least three hours. This cake is actually better after 24 hours in the refrigerator.
To serve, spoon several tablespoons of raspberry sauce onto each plate, and then place slices of cake on the sauce. Top with whipped cream and a raspberry if you are lucky enough to have some extras.
Easy Raspberry Sauce

Sauce aux Framboises
Ingredients
20 ounces of frozen red raspberries in light syrup
1/2 tablespoon kirsch (cherry flavored brandy) - optional
Directions
Partly thaw the raspberries than place in a blender or food processor and blend until pureed. Strain through a sieve to remove the seeds and place in a jar to refrigerate until serving time. Stir in the kirsch, if you're using it, at the last minute.
More French Chocolate Cakes

Chocolate Charlotte


Reine de Saba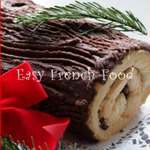 Bûche de Noël
New!

Comments

Have your say about what you just read! Leave me a comment in the box below.