French Cheesecake Recipe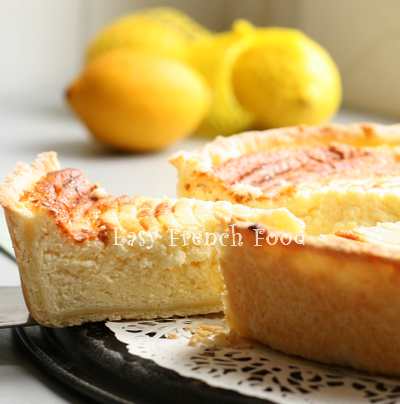 This French cheesecake recipe comes from Alsace, where it is called Käsküeche. It is a light and not-too-sweet tart made from fromage blanc, beaten eggs and a little lemon. This recipe is traditionally prepared with a pie crust rather than the cookie crumb crust seen on many cheesecakes.
Fromage Blanc
The key ingredient in this French cheesecake recipe is fromage blanc. This is a very popular dairy product here in France and it is becoming more readily available around the world. Don't confuse it with fromage frais, a category of cheeses that includes fromage blanc, but other products as well. If you can't find fromage blanc, you can substitute some brands of quark.
Tarte au Fromage Blanc
Prep time: 15 minutes (not including crust preparation or warming the egg whites)
Bake time: 40 min
8 Servings
Ingredients
3 large eggs
1 pie crust*
1/3 cup cake flour
1/2 to 2/3 cup sugar, depending on desired sweetness
16 ounces fromage blanc (40% milkfat) or quark
1/2 cup heavy cream or crème fraîche
2 tablespoons lemon juice
powdered sugar (optional)
Directions
Separate the egg whites and yolks. Place the whites in a metal mixing bowl (good for whipping). Allow the whites to warm to room temperature - about 30 minutes. This makes it easier to get stiff peaks.
Preheat the oven to 350°F (180°C).
Fit the pie crust to a 9 inch cake pan, pushing on the sides and bottoms so it adheres well.
In a mixing bowl, stir together the cake flour and sugar until well blended. Add the fromage blanc or quark, heavy cream or crème fraîche, egg yolks and lemon juice. Stir until well blended. Don't worry if it is a little lumpy, you can blend it a little more with the hand mixer in a minute.
Using a hand mixer equipped with a whisk, whip the egg whites until stiff peaks form. You can then use the mixer to completely blend the cheese and egg mixture if it needs it. Stir in about a third of the egg whites into the cheese and egg mixture to lighten it. Then, using a spatula, gently fold the rest of the egg whites into the mixture. It takes about 15 to 20 folds - don't over do it.
Pour the batter into the prepared pie crust and place in oven. Bake for 40 minutes at 350°F (180°C).
Remove cake from the oven and allow to cool for 5 minutes. Place a wire cake cooling rack on top of the cake and flip it over. Remove the cake pan and allow the cake to cool for 20 minutes or so, then flip it back over onto a serving plate and allow it to finish cooling. These acrobatics help to keep it from deflating.
Cool completely, cover with plastic wrap, and refrigerate until serving time.
To serve, sprinkle with powdered sugar.
* A slightly sweetened pâte brisée crust goes well with this.
French Desserts
Before you try this French cheesecake recipe, consider that it is not so sweet as what you may be used to in a cheesecake. This is typical of a lot of French desserts, which can be surprisingly light on the sugar especially for those of us with over stimulated sugar receptors.
I frequently hear French people complain when things are too sweet, so they definitely have a different perspective. They would probably like the recipe with a little less sugar (1/2 cup), so I included that as an option. It can actually be quite nice to give the sugar beast a little break, but it's also nice to know what to expect before you serve this.
Food in Alsace
Alsace is a French region that borders on Germany and many times cooking traditions overlap between the two countries. This is the case with Käsküeche, and you are likely to find families from both countries with their own treasured version of this recipe. It is interesting to note that in a region known for its substantial cuisine that desserts tend to be more subtle - spice bread, fruit tarts, and kouglof are some favorites. Learn more here: Food of Alsace.
New!

Comments

Have your say about what you just read! Leave me a comment in the box below.