Easy Beef Recipes
Here are some easy beef recipes, including stews and casseroles, that will have you serving up a delicious French dinner with little effort. Each one is a classic French beef recipe that is often served for family meals. To add more French style to your meal don't forget a bottle of good red wine and a loaf of French bread.

Beef Bourguignon Recipe
Everyone's heard of beef bourguignon or burgundy beef stew, but did you know that it is very simple to make? Stew beef is slowly simmered in red wine and sauteed mushrooms are added later on in the cooking. The meat in this becomes more and more tender as you cook it, so allow plenty of time for it to cook before you serve. Your whole house will fill with a divine smell, enticing everyone to the table.

Beef Daube
Daube is a slow cooked French stew that was traditionally made in a special cooking vessel called a daubière. You can make it in a Dutch oven though with good results. Stew beef first marinates in red wine spiked with cloves, carrots, and onions. The next day it is cooked on the stove top and baked in the oven with the addition of orange zest and black olives. This is a good recipe for a long weekend.

Braised Beef Recipe
Braising beef is a wonderful way to soften up less expensive cuts of meat. In this traditional French dish, called boeuf aux carottes, stew beef is slowly simmered with carrots. The flavor and sweetness of carrots gradually infuses the beef and the result is a delicious meal for next to no effort.

Easy Roast Beef Recipe
This recipe is perfect for cooking a small boneless roast. The armagnac mustard sauce that accompanies it couldn't be easier to make or yummier. Delicious elegance without any headache.

Hamburger Potato Casserole
Another version of hachis Parmentier - this one features spinach and bacon. Serve with a simple salad for a sure to satisfy supper.

Mashed Potato Casserole
What could typify French comfort food better then hachis Parmentier? By using instant mashed potatoes, this becomes a dish that can be quickly prepared for a week night meal. There is a fun story that goes with this recipe that you can entertain your family with at the dinner table.

Steak au Poivre Recipe
This very popular French pepper steak comes with a wonderfully tasty sauce made from Cognac and cream. At the same time, learn a few tips for pan frying steaks that might make the job a little easier for you.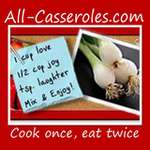 All Casseroles
Here's a great resource for easy beef recipes such as this cabbage casserole, as well as many other types of casseroles. The recipes on All Casseroles are easy and quick to put together and will have you serving dinner in no time.
Return to Easy French Recipes.
New!

Comments

Have your say about what you just read! Leave me a comment in the box below.