Apple Cake Recipe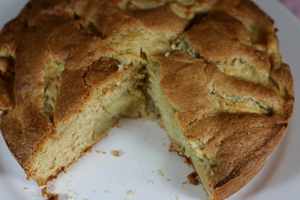 This easy apple cake recipe is delicious warm from the oven, but would also be good for breakfast the next day. You can serve this French cake plain or add a dollop of whipped cream, crème fraîche or ice cream for extra enjoyment.
Recipe Notes
The almond meal in this recipe gives the cake extra moistness and flavor. If you don't have any, you can substitute an equivalent amount of flour for the meal. Please note that almond meal is also sometimes called almond flour. Learn more about this great recipe ingredient here: almond meal.
Easy Apple Cake Recipe

Gâteau aux pommes
Preparation Time: 30 minutes
Baking time: 50 minutes
Makes 6 to 8 servings.
Ingredients
2 cups all purpose flour
3 tablespoons almond meal (flour)
2 teaspoons baking powder
1 teaspoon cinnamon
1/2 teaspoon salt
3 or 4 apples
3 eggs
1 cup sugar
2 teaspoons vanilla extract
1/2 cup melted and cooled butter
Directions
Preheat oven to 350°F.
Prepare a 9 inch round cake pan by thoroughly buttering the bottom and sides, then sprinkling it evenly with flour and tapping out the excess.
Sift together the flour, almonds, baking powder, cinnamon and salt. The ground almonds might not pass through your sifter. If not, just stir them into the flour mixture.
Peel and core the apples. Cut into quarters and then cut each quarter into three chunks.
In a mixer (or by hand if you wish) beat the eggs with the sugar and vanilla. Mix in the flour and then the melted and cooled butter. Stir in the apple chunks.
Pour into the prepared pan and bake at 350°F for 50 minutes or until a toothpick poked in the center comes out clean.
Remove from the oven and let cool for 10 minutes. Run a knife around the edge of the cake to release. Turn out onto serving dish. Serve warm.
New!

Comments

Have your say about what you just read! Leave me a comment in the box below.