Easy Rum Cake Recipe
Try this easy French rum cake recipe when you want to serve just a little elegant something, perhaps at tea time with a good friend. Along with rum, it includes salted butter and ground almonds which give it a rich, dense crumb that slices beautifully.
The City of Nantes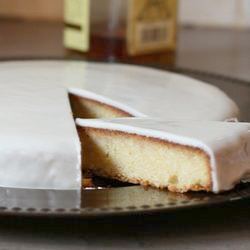 Gâteau Nantais
This cake, known as gâteau nantais, originated in the city of Nantes in the north west of France. Nantes is just a few kilometers down river from the Atlantic seaboard and has been a thriving city for many centuries. Amongst other notable facts, it is home to the the Lu cookie company, makers of several world famous French cookies.
Because of its coastal position, Nantes was at one time first in line to receive the rum that was being exported from Martinique and other French interests in the Caribbean. The abundance of this fiery sugar distillate must have inspired more than one chef, but it is this particular recipe which has stuck through the years.
The rum cake recipe also calls for salted butter which is fairly unusual for a French cake recipe. However, Nantes is the historical center of Brittany which boasts a thriving dairy industry and where you are likely to find salted butter used in desserts.
French Rum
France governs several overseas territories that produce rum, including Martinique, Guadalupe, and French Guiana. In general this rum is made from sugar cane juice (rather than syrup or molasses, which is the case for some rums) .
If you wish to be sure you are buying a quality French rum, look for a label that is marked with an AOP (appellation d'origine controlée) Martinique. This is a guarantee that the rum is made according to strictly controlled guidelines resulting in a superior product.< />
Learn more about all kinds of rum at the Ministry of Rum.