Zucchini Recipes
Every home cook should have a few good zucchini recipes to draw on. Zucchini is one of those vegetables that is available nearly year round in many places in the world. It also has to be one of the easiest vegetables to grow yourself.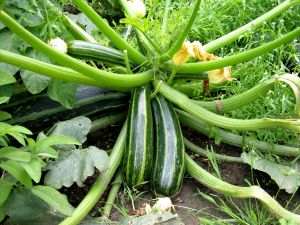 When selecting zucchini for your recipes, feel for vegetables that are heavy in your hand. Their skin should be smooth and have a vibrant appearance. In general, smaller vegetables are a bit more flavorful.
Zucchini is a pretty bland vegetable, so do not be afraid to give him a boost. In France, you will find zucchini in recipes from the south, where it is more likely than not, combined with garlic and perhaps onions.
It is also served as a cold salad, sliced in thin rounds or shredded and tossed with a vinaigrette. finally, perhaps most spectacularly, the gorgeous yellow flowers of this plant are used to make fritters, called beignets de fleur de courgettes.
Zucchini Fritters Recipe
Kids and adults love these shredded zucchini fritters. These are great served with a tomato dipping sauce.

Baked Zucchini Recipe
This recipe could not be any simpler and it is all explained in a video. Baked zucchini is a dish to use over and over again as it seems to go with so many things.

Ratouille Recipe
The classic Mediterranean vegetable medley combines zucchini with eggplant, tomatoes, onions and herbs. Great with an omelette or grilled meats or just serve on top of pasta or rice for a complete meal.

Stuffed Zucchini
This is made with cute little round zucchinis, but it will work just as well with long vegetables. Filled with ground beef, bread crumbs and Parmesan cheese, then baked in the oven.

Zucchini Pie Recipe
This recipe is made in the same way as the famous French apple tart - Tarte Tatin. The vegetables are layered in a pan, sprinkled with goat cheese, and then the crust placed on top. After baking, you flip the pie over to serve.
Return to French Cooking Recipe Index.