Zucchini Fritters Recipe
This zucchini fritters recipe is perfect if you have a lot of zucchini in your garden (or your neighbor does) or if your just looking for a new way to get your kids to enjoy their vegetables. They are called beignets de courgette in French.
Recipe Notes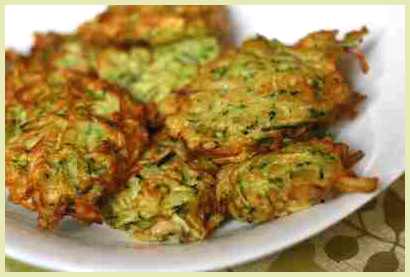 When we lived in Corsica we would sometimes get take out food from the local traiteur, which is a sort of delicatessen where you will find all sorts of dishes, prepared fresh that day. It was run by a jovial Corsican woman and her daughter who would always exclaim over our band of toddlers, calling them little angels (des petits anges). The boys particularly liked the zucchini fritters she made, so I started calling the fritters angel food. For the longest time those cute little boys thought that zucchini fritters were really called angel food.
What is a Beignet?
If you've heard of beignets, it may be the sort made by the Café de Monde coffee shop in New Orleans. In Louisiana, beignets are square doughnuts usually topped with powdered sugar. Each region of France has it's own special take on beignets and they are especially popular at Carnaval time in the spring. If you celebrate Mardi Gras in France, you're bound to enjoy these traditional beignets.
In France though beignet also has much broader sense, referring to any sort of pastry made by coating a fruit, vegetable or meat with batter and deep fat frying it. They can be both sweet and savory.
For a light and easy meal, you could serve these fritters on top of rice and topped with a fresh homemade tomato sauce recipe.
This zucchini fritters recipe calls for mixing the vegetables into the dough itself. You can vary the recipe by adding cumin or maybe a pinch of cayenne or 1/4 cup of parmesan cheese. These make very satisfying appetizers.
Zucchini Fritters

Beignets de Courgette
Makes about 20 fritters
Ingredients
1 pound zucchini
2 eggs
2 cloves garlic, crushed
1/2 cup flour
1/2 teaspoon salt
1/4 teaspoon pepper
oil for frying
Directions
Shred the zucchini using a food processor and put it in a big mixing bowl. Stir in the eggs, garlic, flour and salt and pepper and mix until blended. The batter may look a bit runny, but don't get alarmed. It all holds together once it hits the hot oil.
Heat about 1/2 inch of oil in a heavy skillet. Drop the batter by tablespoons full into the oil and cook until browned - three to four minutes per side. Remove from oil with a slotted spoon and drain on absorbent paper towel.
Serve warm.
Return to Easy French Appetizer Recipes.
Related Recipes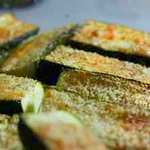 Baked Zucchini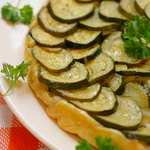 Zucchini Tart
New!

Comments

Have your say about what you just read! Leave me a comment in the box below.