Ratatouille Recipe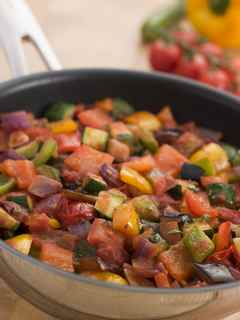 A classic ratatouille recipe almost always includes bell peppers, eggplant, zucchini, tomatoes, onions, garlic and fresh herbs. This sauteed summer vegetable recipe can be served in any number of ways, both hot and cold. Try it as topping for pasta or a filling in an omelet. Or just eat it by itself with a loaf of bread for a Provencal inspired vegetarian meal.
Ratatouille originated in the south of France, and some say in the city of Nice itself. It features the vegetables you would be likely to find in a potager in the middle of summer: eggplant, zucchini, bell peppers, and tomatoes as well as the fresh herbs you'd find growing alongside. I imagine someone in the south of France walking out their kitchen door and into their vegetable garden on a hot summer afternoon. There they find all the fresh ingredients they need for their evening meal.
Find more French Provençal recipes.
The ratatouille recipe given here is actually somewhat of an elaborate dish. Each vegetable is cooked separately before being mixed together. This process allows each vegetable to shine through with its own flavor and results in a fairly complex tasting dish.
Ratatouille Serving Suggestions
Hot or cold, and just as good the next day if not better, try this ratatouille recipe in a number of different ways.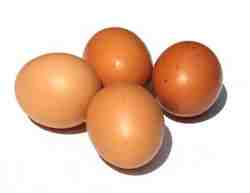 With Bread - Serve ratatouille with thick slices of French bread for a satisfying and easy meal.
With Pasta - Serve on top of hot pasta as a main dish.
With Meats - Serve ratatouille as an accompaniment to fish, cold chicken, or other meats.
With Eggs - Use it as a filling in an omelette.
As an Entrée - Try serving it cold with a squirt of fresh lemon juice as a starter course.
With Tomato Sauce - Try topping ratatouille with a quick tomato coulis made from simmering unsalted canned tomato sauce with coriander, pepper, and cumin.
As a Terrine Topping - You can even serve this ratatouille recipe as a topping for a terrine, such as this vegetarian terrine.

Easy Ratatouille
If you are looking for something a little easier, try making ratatouille the way I usually do with this easy ratatouille recipe
Ratatouille Tradition
Prep time: 40 min
Cook time: 40 min
Makes 4 to 6 servings
Ingredients
1 pound eggplant, sliced in rounds
1 pound zucchini, sliced in rounds
1 pound bell peppers, sliced
1 pound tomatoes, peeled and quartered
3 onions, peeled and chopped
2 cloves garlic, peeled and minced
olive oil
bay leaf
thyme sprig
salt and pepper
Directions
Wash and slice all of the vegetables. To peel the tomatoes drop them in boiling water for about 10 seconds and use a sharp paring knife to help slip off the peel.
Heat 2 tablespoons olive oil in a skillet on medium heat. Add the sliced eggplant and cook, turning occasionally for five minutes. Sprinkle with salt and pepper and remove the eggplant from the skillet.
Add 1 tablespoon olive oil to the skillet and add the zucchini slices. Cook for about five minutes, turning occasionally, then season with salt and pepper and remove from the skillet.
Repeat the procedure for the bell peppers.
Heat 2 more tablespoons olive oil in a Dutch oven on medium heat and add the onions. Cook, stirring occasionally, for five minutes.
Add the tomatoes and the pre-cooked vegetables: eggplant, zucchini, and bell peppers. Stir to combine and then add the bay leaf and thyme. Cover and cook on low heat for 30 minutes.
Add the garlic and salt and pepper if needed and cook covered for another 10 minutes.
Find more Easy Eggplant Recipes.
Find more Zucchini Recipes.
Return to Easy Vegetable Recipes.
New!

Comments

Have your say about what you just read! Leave me a comment in the box below.