Stuffed Zucchini Recipe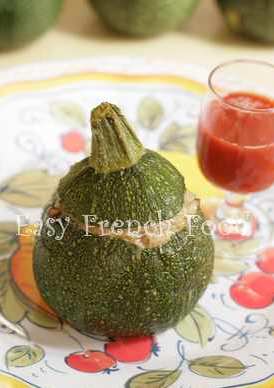 With this baked stuffed zucchini recipe, you'll get an attractive and unexpected main dish with little effort. The recipe uses round zucchinis, but it will work just as well if you can only find oblong squash.
Stuffing vegetables is probably a lot easier than you may think. This recipe really goes quite quickly, once you have scooped out the interiors of the zucchini.
Zucchini is a perfect vegetable to stuff as it can be fork tender and still retain its shape. And everyone knows zucchini flavor is extremely versatile and combines well many other things. So have fun with this very basic recipe, and change it around as you wish.
Find more French zucchini recipes.
Menu Suggestion: For a complete main course, serve this with a side of tomato sauce (coulis de tomate) and rice or another grain.
Courgettes farcies
Makes 6 servings
Ingredients
6 round zucchinis (about 1/2 pound each)
2 tablespoons olive oil
1 large onion, peeled and finely chopped
2 shallots, peeled and finely chopped
1 egg
1/2 cup bread crumbs
2 tablespoons chopped fresh herbs (try parsley, cilantro, or basil)
1/2 teaspoon salt
1/2 teaspoon pepper
pinch of nutmeg
1 pound ground beef
6 tablespoons freshly grated Parmesan cheese
1/2 bouillon cube dissolved in 1 cup of water
Directions
Preheat the oven to 375° F.
Wash and dry the zucchinis. Slice off the tops and scoop out the interiors until just 1/3 inch of flesh remains all around, leaving the zucchini intact. An apple corer can be useful to get things started, then use a spoon.
Chop about 1/2 of the scooped out portion and reserve this for the filling. Place the hollowed out zucchinis in a baking dish.
Heat the olive oil in a large skillet on medium heat. Add the onions and shallots, and cook, stirring occasionally for 5 minutes. <:li>
Add the chopped zucchini and continue cooking for 5 more minutes.
Remove from heat and stir in the egg, bread crumbs, fresh herbs, salt, pepper and nutmeg.
Place the ground beef in a mixing bowl and stir in the onion mix until thoroughly combined. Spoon this mixture into each of the hollowed out zucchinis (it's ok if the filling mounds over the top of the zucchinis). Sprinkle with Parmesan cheese and place the tops back on the zucchinis.
Pour the prepared bouillon into the baking dish around the zucchinis.
Bake at 375°F for 40 minutes.
Recipe Variations
You could vary the filling for this baked stuffed zucchini recipe as you wish. To make a vegetarian version, sautee a variety of vegetables (tomatoes, bell peppers, and mushrooms would be good) along with the onions, shallots and zucchini.
You could also substitute part or all of the ground beef with ground pork or sausage.
This stuffed zucchini recipe could also be made with long zucchinis. Just slice the zucchini in half lengthwise and scoop out the interior leaving 1/3 inch of flesh, then follow the rest of the recipe. Mound the filling on top of the zucchini and bake as in the original recipe.
New!

Comments

Have your say about what you just read! Leave me a comment in the box below.