French Bistro Recipes
Discover the charm of French bistro dining!
Here you will find a growing list of French bistro recipes. A French bistro (bistrot) is traditionally a small, casual restaurant, catering to people who live or work in the neighborhood. It is the place to get a hearty and inexpensive meal without a lot of formality.
French bistro cooking features simple homestyle meals with ample portions, perhaps served with a glass of red wine.
These days many French bistros are offering lighter fare for its health conscious clientele. You will find soups and salads, stews and grilled meats, and unpretentious desserts in a French bistro.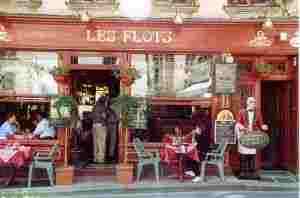 If you come to France, don't miss out on eating at a typical neighborhood bistro. In the meantime, you can try some of these recipes for food you might find on their menu.
Beef Bourguignon Recipe - A hearty beef stew made with red wine, onions, carrots, and lots of mushrooms.
Cabbage Casserole - Here's great recipe for a staisfying vegetarian meal featuring shredded cabbage, rice, tomatoes and cheese.
Easy Beef Stew Recipe - Carbonnade - Carbonnade is a fabulously simple and rich tasting stew made from beef, onions and beer. It hails from the region of French Flanders.
Easy French Onion Soup - Soupe à l'oignon is frequently offered on bistro menus. A delicious recipe featuring caramelized onions.
Lamb Stew Recipe: Navarin - This is a wonderful lamb stew recipe that features delicately cooked carrots, turnips, peas and green beans. Scrumptious - I promise!
Lentil Soup Recipe - Often called simply Peit Salé after the meaty French salt pork that is included along with juicy Toulous sausage. Hearty eating for good appetites.
Mashed Potato Casserole - Who would have thought that one of France's favorite foods would be so unfussy as this. Of course with a name like Hachis Parmentier it sounds elegant anyway.
Mustard Pork Chops - My whole family loves this couldn't-be-simpler recipe. The mustard mellows as it cooks and when blended with cream, the effect is delicious.
Onion Pie Recipe - This fabulous pie features onions that have been cooked until they are caramelized. The slightly sweet taste makes a great entree or possibly a main dish for a lighter meal.
Potato Cheese Casserole - Tartiflette is a hearty layered potato dish featuring Reblochon cheese from the Savoy region of France.
Ratatouille Recipe - More popular than ever since discovered by a Hollywood rat, this dish features French vegetables fresh from the kitchen garden.
Scalloped Potatoes Recipe - You may have heard this satisfying dish called by its French name, gratin dauphinois. Here the potatoes are cooked with cream, cheese, garlic and herbs.
Turnip Recipe - French bistro recipes often feature more humble foods as in this surprisingly tasty side dish of glazed turnips.
Return to Easy French Recipes.
New!

Comments

Have your say about what you just read! Leave me a comment in the box below.