Vanilla Custard Sauce Recipe
In France this vanilla custard sauce recipe is called crème anglaise, or English cream. Frequently when serving a cake, the French will not add any frosting or icing to it. Instead they will serve a pitcher of crème anglaise along side and this is poured on top.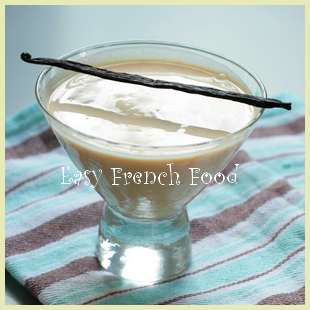 The Tricky Part
Making crème anglaise is just a little tricky. If you heat the sauce too much or too quickly, the egg yolks will cook into little clumps. This is called curdling and most people don't like a lumpy sauce.
What to do if your sauce curdles despite your best efforts? You can either immediately pour it into a blender and try blending it until smooth (watch out for hot splatters), or pour it into an empty bottle, cap it, and shake away.
In France, this custard sauce recipe is usually made with just a little sugar, but you may want to add just a bit more to this recipe if you like things really sweet. I make this recipe with a combination of heavy cream and milk, but you can also make it with just milk or half and half depending on how rich you want it.
If you can, do make this custard sauce recipe with a vanilla bean. It will have a much nicer flavor. Vanilla beans are expensive and it's nice to get all the use we can from them. So if you wish, rinse the shell, dry it and use it to lightly flavor a canister of sugar. You may be interested in buying vanilla beans in bulk (available on Amazon for example). Because they are light weight, you may even save money by mail ordering these.