(Sorry to be late with this issue of La Marmite. We took a much needed vacances to Bretagne, and I think I was still dreaming of seagulls and lighthouses on our return. Nonetheless, better late then never, I have done some cooking and research, and am happy to share with you now.)
Triple Sec
In France you will find many different brands of triple sec, which is an alcohol that has been flavored with the essence of bitter oranges. Grand Marnier and Cointreau are widely known, but there are others, including electric colored curacaos.
Grand Marnier however is a very special sort of triple sec, made with aged cognac and carefully cultivated Bigardia oranges. The result is an unbelievably smooth and flavorful liqueur, perfect for after dinner sipping or also as an ingredient in cocktails and other recipes.
The oranges used to elaborate Grande Marnier are all grown on a Caribbean plantation, where they are picked while still green and at the peek of their aroma. They are sliced in quarters, their pulp (which is virtually inedible) is removed, and the peel is then left to dry in the sun. The dried peels are shipped to France where they are used to elaborate an orange alcohol which is then carefully mixed with aged cognac and other ingredients.
Invented over 120 years ago in France by Louis-Alexandre Marnier-Lapostolle (who had married into a family of distillers), the exact recipe is a secret to this day. Originally marketed as Curacao Marnier, the triple sec was renamed Grand Marnier by the famous hotel owner César Ritz, who declared that the liqueur merited a loftier name.
Right from the start, drinking Marnier-Lapostolle's liqueur became a symbol of luxury and distinction. It received many awards and restaurants began serving it as a special after dinner drink. Chefs discovered the sweet flavorful potential of this triple sec and it quickly became a popular ingredient in cocktails and other recipes, including Crepes Suzette, a flammable dessert invented by the famous French chef and food innovator, Georges Auguste Escoffier (1846-1935).
Some of the different sorts of Grand Marnier that you may find are:
Cordon Rouge - This is Grand Marnier as it was originally elaborated by Marnier-Lapostolle. It is readily available in North America and around the world and it is what I used in testing the recipes you'll find here.
Cordon Jaune - Available in some European countries and other international airports, this is not made with cognac, but rather another more mundane alcohol and the result is considered to be an inferior, if less expensive, liqueur.
Cuvée du Centenaire - This is a special edition triple sec created in 1927 to commemorate the 100th year anniversary of the founding of the original distillery.
Cuvée Spéciale Cent Cinquantenaire - Elaborated with very old and fine cognac for the 150th anniversary of the company, this is the cream of the crop of Grand Marniers. Prized for its finesse, if a glass of this should find its way to your hand, I truly hope you will stop everything and breath deeply the moment.
Cuvée Louis-Alexandre - Another special edition, this one is named in honor of Grand Marnier's inventor. It is less sweet and more intense then the Cordon Rouge.
Other then savoring it as a drink, you might also enjoy cooking with Grand Marnier. It adds an incredible depth of flavor to both savory and sweet recipes. The orange note marries especially well with other fruit flavors, chocolate, and coffee. Here are two recipes to get you started:
---
Grand Marnier Chicken
Poulet au Grand Marnier et gingembre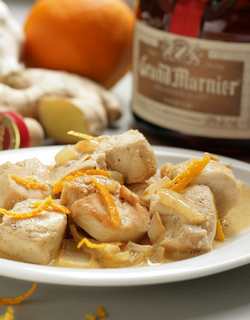 Print Recipe
---
Tiramisu au Grand Marnier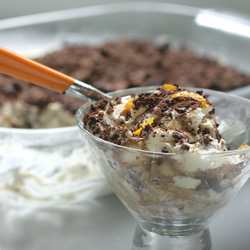 mascarpone cheese
1 1/3 cups whipping cream
1 1/4 cups strong cold coffee (I used decaf)
50 - 60 lady fingers or boudoirs
6 ounces dark, sweet chocolate - chopped very finely
Orange zest
In the top pan of a double boiler whisk (or use a hand mixer) the egg yolks with the sugar until thickened slightly and light colored. Whisk in 1/2 cup Grand Marnier. Place the pan in simmering water and, whisking continually, cook until the mixture is thickened - this takes about 3 minutes if the water is already simmering. Remove the top pan from the simmering water and allow the mixture to cool to room temperature at least 15 minutes.
Meanwhile, in a mixing bowl, beat the mascarpone cheese until smooth (allowing the cheese to warm some at room temperature makes it easier to work with). Mix in the cooled egg yolk mixture and beat until thoroughly combined.
In another mixing bowl beat the whipping cream just until soft peaks form. Using a rubber spatula, carefully fold the whipped cream into the mascarpone mixture just until blended.
In a small bowl, mix the remaining 1/4 cup of Grand Marnier with the coffee. Dip the lady fingers quickly, one by one, into the coffee mixture and then place them in one even layer in the bottom of a 2 quart dish. Spread half of the cream mixture on top of the lady fingers, sprinkle with 1/2 of the chocolate and then repeat the layers (lady fingers, cream, chocolate) one more time.
Cover with plastic wrap and place in the refrigerator to chill for at least 6 hours or overnight.
Serve in bowls and decorate with orange zest.
Makes at least 8 servings (this is rich stuff)

Print Recipe
---
Best Bite of the Summer
As I mentioned, we were vacationing in Bretagne at the the end of this summer. So I had a chance to sample some of the local specialities. Along with the ever famous Breton galette, I also enjoyed a Kouign Amann (my best prononciation on this is to say the word cinnamon with a hard k), which is a sort of croissant cake layered with a caramely sweet filling. Truly a decadent mouthful.
I haven't attempted to recreate this at home, but David Lebovitz, who has a wonderful blog you really should check out anyway, shares his recipe here: Long Live the K. Defintely worth trying.
---
Quoi du neuf?
Mostly reorganization as I attempt to make the site more user friendly by adding categories of French cooking recipes by ingredient:
Easy Apple Recipes
Easy Eggplant Recipes
Easy Chicken Breast Recipes
Salmon Filet Recipes
Easy Chocolate Dessert Recipes
Mousse Recipes
A few readers questions answered:
Parsnip Recipe
French Eating Customs
And a few new recipes:
Raspberry Mousse Recipe
Orange Chicken Recipe (this one includes fennel)
Dandelion Salad
Breaded Chicken Recipe
Eggplant Caviar Recipe
Fried Eggplant Recipe
Poached Salmon Recipe
Dill Sauce Recipe
Homemade Tomato Sauce Recipe
---
Next Issue:
Hope you enjoy a little Grand Marnier soon. Thanks so much for spending some time with me. In the next issue,
due out on October 8th:
an overview of French gastronomic geography. If you're receiving this newsletter because a friend forwarded it to you, you can sign up for your own copy of La Marmite:
Subscribe to La Marmite
. A bientot and remember to enjoy your food! Your friend in France, Kim
Have your say about what you just read! Leave me a comment in the box below.