Easy Recipe for Bread Pudding
This easy recipe for bread pudding is one that frequently comes in handy in a French household where there's likely to be some leftover bread. It features apricots soaked in cognac for extra goodness, but feel free to try other fruits and flavors. Bread pudding is very forgiving.
The Bread Problem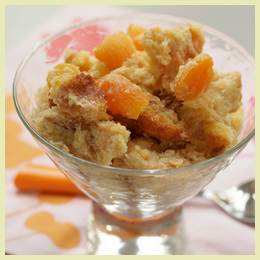 Here in France, you will almost always find slices of bread offered with any meal. Breakfast, lunch and dinner, the country runs on baguettes.
A baguette though is made to stay fresh exactly one day. The next morning it will already be dried out and quite hard. That's just the way they are made.
So if you live in France or buy lots of French bread, you are bound to come across the stale bread problem. We used to feed our stale bread to the donkeys that lived in the field behind our house, but we no longer have our long eared friends. Although baguettes are not expensive, one does hate to just throw them away.
So that's where the recipe for bread pudding comes in. It makes very good use of old French bread and you can serve it for dessert or even for breakfast. Good warm or cold.
Pudding aux Abriocts
Preparation Time: 15 min
Baking time: 1 hour
Makes 6 - 8 servings
Ingredients
6 ounces dried apricots
1 tablespoon cognac or other brandy (optional)
1 quart milk
1 stale baguette, cut or torn into 1 inch or so chunks (about 10 cups)
4 eggs
1 cup sugar
1 tablespoon vanilla extract
1 tablespoon butter
Directions
Cut the apricots each into four pieces and place in a bowl of warm water with the brandy (if you are using it).
Pour the milk into another mixing bowl and add the torn bread. Push the bread down into the milk and mix it a bit with a wooden spoon to get it all soaking. Place this in the refrigerator to soak for 1 hour.
In a mixing bowl, whisk the 4 eggs, then add the sugar and vanilla extract, whisking until combined. Pour this on top of the soaked bread, and stir to combine. Drain the water from the apricots and stir them in.
Pour the mixture into a well greased 9 x 13 inch baking pan. Dot with small pieces of butter.
Bake at 325° F for 1 hour or until golden brown and set. Serve warm or cold.
Variations
This easy recipe for bread pudding can be changed to include different fruits. Try prunes, raisins or currants, or even fresh fruit, such as apricots, peaches or plums.
Serve your French bread pudding with a small pitcher of heavy cream or with a dollop of crème fraîche for extra richness. Or enjoy it with

crème anglaise

: custard sauce recipe.
You can flavor this with different spices as well, try mixing in a teaspoon of cinnamon or ground cardamom.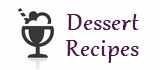 New!

Comments

Have your say about what you just read! Leave me a comment in the box below.