Praline Recipe
Ground Candied Nuts
This praline recipe is for a ground candied nut preparation used as an ingredient in French recipes. In France, one can buy praline in the grocery store, but homemade is so much better and fairly easy to make.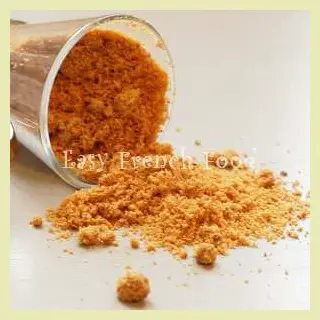 Praline Recipe Notes
Nuts. You can make this with just about any combination of nuts you wish. Hazelnuts and almonds are more traditional, but pine nuts, walnuts, pecans, pistachios, or peanuts would all work as well.
Skins. If you want a more refined effect, you may wish to skin the hazelnuts by placing them in a clean dish towel as soon as you remove them from the oven. On the countertop, rub and roll the nuts around in the dishtowel to loosen and remove the skin.
Storing. Ground pralines can be stored in an airtight container on the pantry shelf for several months. Praline paste, on the other hand, is much more likely to go rancid and should be kept in the refrigerator for not more than a couple of weeks.
Pralin et pâte pralinée
Preparation Time: About 2 hours from start to finish
Makes about 2 1/2 cups ground praline
Ingredients
3/4 cup hazelnuts
3/4 cup blanched almonds
1 cup sugar
1/4 cup water
Directions
Oven.

Preheat the oven to 350°F (180°C).

Bake nuts.

Spread the nuts on a non-stick baking sheet and bake for 10 to 12 minutes, or just until they are lightly toasted. Remove from the oven and allow to cool.

Make caramel.

Stir together the sugar and water in a small pan and place on medium heat. Allow to come to a boil and cook until light caramel in color.

Add nuts.

Remove from the heat and immediately stir in the toasted nuts. Immediately turn the contents of the pan out onto a cookie sheet lined with parchment paper.

Cool.

Allow the candy to cool completely before grinding - about 1 hour.

Grind.

To grind, first break the candied nuts into small pieces. Place in the bowl of a food processor equipped with a sharp blade. Run the food processor, stopping frequently to mix the unground pieces with that which is ground and sticking to the sides of the bowl and under the blade. Continue until everything is ground smoothly (about 15 minutes). Try not to eat a lot of praline out of boredom. You can also grind the praline in a blender, but you will need to work in small batches and continually sift out what has been ground from what has not.

Make paste (optional).

Once you have ground pralines, you can continue processing, scraping the sides of the bowl as you go, to form a paste (

pâte pralinée

).

Store.

Store in an airtight container. Ground pralines can be stored on a cool pantry shelf for up to 6 months. Praline paste can be stored in the refrigerator for up to 2 weeks.
French Praline
You may already be familiar with praline candy as it has been popularized in North America. Cooks in the south took the original praline recipe and made it with what they had on hand - pecans. Then they added other ingredients like butter and cream, and gradually a praline became something entirely different.
Ground hazelnut and almond praline however is still made and you will find it called for in any number of French dessert recipes. Depending on how long it is ground and what it is mixed with, praline can come in a number of different forms. The praline recipe given here can be used to make three different products commonly used in recipes.
Pralin

- Ground Pralines. Sprinkle ground pralines on just about anything where you'd like a sweet nutty crunch: ice cream, yogurt, parfaits, pies, or fresh fruit.

Paris-Brest

, a popular French cake made from choux pastry, is frosted with buttercream mixed with pralin.

Praliné

or

pâte pralinée

- Praline paste. If you continue grinding powdered praline, the oil in the nuts is released and a paste is formed. This can be rolled into small balls and dipped in melted chocolate to make

bonbons

. In some parts of the world you can now purchase praline paste.

Pralinoise

- Chocolate praline. If you mix praline paste with an equal amount of melted milk chocolate, you will get chocolate praline. This is actually a product popularized by Nestle that has found its way into modern recipes and cooking vocabulary.
New!

Comments

Have your say about what you just read! Leave me a comment in the box below.