Creme Caramel Recipe
This creme caramel recipe goes together quickly and is truly one of the least fussy French dessert recipes you are likely to find. All you need is four ingredients to make this baked custard: milk, eggs, sugar and vanilla.
Baked Custard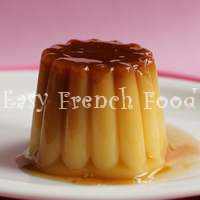 In France these days, you can buy creme caramel in the grocery store. But why do that when it is so easy to prepare at home? You probably already have on hand the ingredients to make this creme caramel recipe. The only inconvenient thing is that you really do have to make it ahead of time. The custard has to completely cool before will be able to remove it smoothly from the dish in which it cooks.
This recipe calls for cooking the creme caramel in individual baking dishes called ramekins. Ramekins are fun. You can even serve your creme caramel in the ramekins if you have really pretty ones you want to show off. Your eaters will be pleasantly surprised to find the caramel at the bottom.
To make a richer version of creme caramel, just substitute some whipping cream for part of the milk. 1 cup of whipping cream for 2 cups of milk will make the recipe considerably richer.
You could also make this recipe with a vanilla bean. Split the bean horizontally and use a sharp knife to scrape out the seeds. Place the seeds and the emptied bean into the boiled milk and allow it to infuse for at least 10 minutes. Strain the milk before whisking it into the eggs.