Types of Brandy
Armagnac, Calvados, Cognac
There are many types of brandy in France that you might like to try. Cognac, of course, is very famous indeed and known the world over. You may agree with some though that Armagnac is even better and no tour of French brandies would be complete without investigating Normandy's excellent apple brandy, known as Calvados.
French Brandy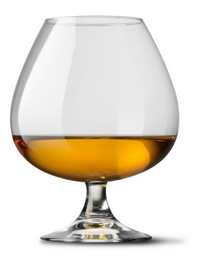 In France brandy is called eau-de-vie, a designation that includes any fermented juice that has been distilled. Most frequently this will be grape juice, but eau-de-vie can be made from apple juice, pear juice, and other fruit juices. The French also consider alcohols such as vodka (which is made from fermented potatoes) and grain alcohols to be eaux-de-vie.
All types of brandy undergo the process of distillation which involves heating a fermented liquid, then collecting and recondensing the vapor that is released. Because alcohol boils at a temperature lower than water, the condensed liquid has a higher alcohol content than that from which it came.
The word eau-de-vie literally means water of life and it is a curious fact that the this alcohol was originally believed to have health enhancing qualities and was even given to children up until the 20th century. In more recent times, the destructive properties of alcohol are fully recognized, and in fact liquor consumption in France has fallen considerably from what it once was.
Cognac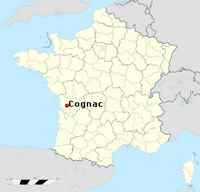 Cognac, France
(Wikipedia Images)
Only the types of brandy made from grapes grown in a specific area around the town of Cognac (near the Atlantic seaboard just north of Bordeaux) can label themselves Cognac. Historically, the wine made from grapes grown in this region was inferior and most of it was distilled to produce an alcohol used to fortify other liquors. It was discovered however, that by distilling the wine a second time, a very fine and smooth brandy was produced. Transformed in this way, Cognac became a prized liquor.
In addition to the double distillation, aging is an essential step in the elaboration of Cognac. In order to earn the Cognac appellation, the brandy must be aged in new oak barrels (typically the wood comes from trees in the Limousin region of France) and placed in storage areas reserved strictly for cognac. All Cognac is aged a minimum of two years, and some is aged twenty years and longer. In general, the longer these types of brandy are aged, the smoother they become. Once it is bottled this aging process is stopped.
The final important step in the creation of a Cognac is the selection and blending of different stocks and years of brandy. The age on a bottle of Cognac always refers to the youngest brandy that it contains. Your bottle of Cognac will have one of the following designations:
VS (very special, also noted with three stars)

- The most ordinary sort of Cognac. The youngest brandy in this blend has been aged at least two years.

VSOP or VO (very superior old pale or very old)

- The youngest brandy in this blend has been aged at least four years.

XO (extra old)

- The youngest brandy in this blend has been aged for at least six years.
Armagnac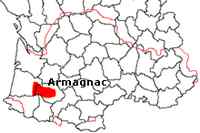 Former Province of Armagnac
(Wikipedia Images)
Further south than Cognac, Armagnac is another area in the west of France that produces a quality wine brandy. Although it is harder to come by then Cognac and certainly less known, some people consider Armagnac a superior brandy. Unlike Cognac, Armagnac is distilled only once and retains more of a fruity flavor, often likened to the taste of prunes.
There are three geographical appellations that make up the Armagnac region that you will see mentioned in reference to these brandies:
Bas Armagnac

, in the west, produces fruity, complex types of brandy. Grand Bas Armagnac, which produces the most prized Armagnac, is part of this area.

La Tenareze

, in the center around the town of Condom, produces a coarser brandy that ages well.

Haut Armagnac

, in the east, produces only a small amount of brandy and mostly for private use only.
You will find Armagnac labeled similarly to Cognac, with the designations of three stars, VSOP and hors d'age (outside of age, meaning old). Once again it is the youngest brandy included in the blend that designates the age marked on the bottle. Also bear in mind that your brandy has stopped aging once it is put in a bottle and will not gain in quality sitting around.
Calvados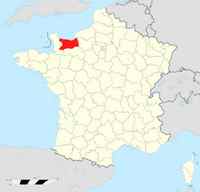 Department of Calvados
(Wikipedia Images)
Calvados is an apple brandy that is produced in Normandy in the north west of France. It is a coarse, rough brandy that must age for several years to acquire its flavor, amber color and the right amount of alcohol (between 40 and 43 percent).
Calvados, like other French brandies, is classified according to how long the brandy was aged before bottling and in general, the older the brandy, the better. The labeling system is similar to the one used for other French brandies, although the three stars is replaced by three apples.
How to Drink Brandy
These days you will find brandy used as an ingredient in cocktails, where it marries especially well with fruit flavors. In France, Cognac is sometimes added to coffee to finish a meal, and it is often used very nicely in recipes.
However, if you have a bottle of quality French brandy, please do consider enjoying it by itself and, as with anything good, in small quantities. It is a nice drink to have after dinner and best enjoyed with good company or at least in front of a crackling fire.
Pour a small amount into a tulip glass with a short stem. Swirl the glass gently and allow the fumes to waft up to your nose, before finally taking a sip. Allow the brandy to fill your mouth with its aroma and swallow slowly, feeling your mouth, then throat, than belly warmed by its smooth fire.
Return from types of brandy to French drinks.
New!

Comments

Have your say about what you just read! Leave me a comment in the box below.