Parfait Recipe
Looks great and tastes great, this coffee parfait recipe features the yummy crunch of nutty homemade praline.
Perfect Parfait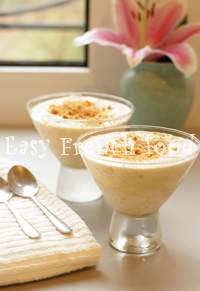 Parfait means perfect in French. I don't know if this frozen dessert is perfect, but it is certainly flexible. Traditionally flavored with coffee, you will also find it made with fruit purees, chocolate, and different liqueurs.
You can serve this dessert in a parfait glass or just about any pretty dish you wish. You can also freeze it in one large mold and then slice it to serve. Finally, a parfait can be made in individual molds that are then dipped in hot water for 10 seconds before being unmolded and served.
This parfait dessert calls for praline (or pralin as it is called in France). This popular dessert ingredient is made from candied almonds and hazelnuts that are finely ground to make a sort of crunchy powder. If you live in France, you can find packaged pralin in most grocery stores, otherwise here is an easy praline recipe.
The parfait recipe also calls for vanilla sugar. Vanilla sugar is often used in French dessert recipes, and one can buy it in little packages that contain about two teaspoons. However, it is very easy to make your own and homemade is far better. Learn how with this vanilla sugar recipe.
Because this parfait recipe involves making a sort of pâte a bombe, you should use very fresh eggs. Although hot syrup is poured into the eggs, I just can't imagine they end up being all that cooked.