Sugar Pie Recipe
Here is an easy sugar pie recipe called a tarte au sucre that is very popular in the Flanders region of northern France. You can serve it warm by itself for a simple dessert or dress it up with ice cream or fruit for an extra delicious treat.
Recipe Notes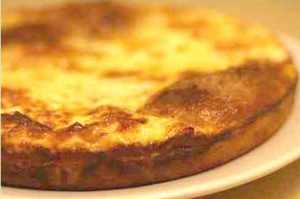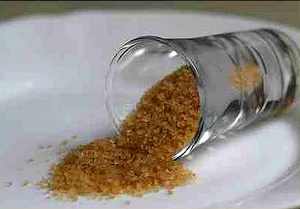 Cassonade Sugar
Cassonade Sugar
This sugar pie recipe calls for a special brown-colored, free-pouring sugar that you can find in France called cassonade. Cassonade is very similar to what you may know as raw sugar or turbinado sugar, which I have changed the recipe to include.
Raw sugar as well as cassonade are wonderful products, arguably better for you then white sugar because they have not been so processed. If you've never tried raw sugar, you may like to check it out as a tasty alternative to heavily processed white sugar. You can buy turbinado sugar here
.
You could also use light brown sugar to make this pie, although the result will be somewhat different (don't worry, nothing drastic). Do buy a quality brown sugar however. I was somewhat horrified to find out recently that some brown sugars available on the market are nothing more than white sugar that has been sprayed with brown food coloring and artificial flavors. A good brown sugar should contain only molasses for color and flavor. Check your labels.
Yeast
This sugar pie recipe is very easy. Don't be put off by using yeast if you're not used to it. Just make sure the yeast is active (hasn't expired) and that you have several hours before dessert time, because it does take a while for the pastry dough to rise. You may find that you really like working with yeast. It has a wonderful smell and yeast breads baking in the oven make the whole house seem a wonderful place to be.
Serve your sugar pie warm. Some people might like to dress it up a bit more with some fresh fruit topping, ice cream or whipped cream. We like it as is - a not too sweet, not too rich dessert.