Sugar Pie Recipe
Here is an easy sugar pie recipe called a tarte au sucre that is very popular in the Flanders region of northern France. You can serve it warm by itself for a simple dessert or dress it up with ice cream or fruit for an extra delicious treat.
Recipe Notes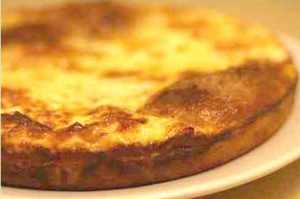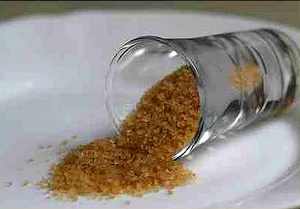 Cassonade Sugar
Cassonade Sugar
This sugar pie recipe calls for a special brown-colored, free-pouring sugar that you can find in France called cassonade. Cassonade is very similar to what you may know as raw sugar or turbinado sugar, which I have changed the recipe to include.
Raw sugar as well as cassonade are wonderful products, arguably better for you then white sugar because they have not been so processed. If you've never tried raw sugar, you may like to check it out as a tasty alternative to heavily processed white sugar. You can buy turbinado sugar here
.
You could also use light brown sugar to make this pie, although the result will be somewhat different (don't worry, nothing drastic). Do buy a quality brown sugar however. I was somewhat horrified to find out recently that some brown sugars available on the market are nothing more than white sugar that has been sprayed with brown food coloring and artificial flavors. A good brown sugar should contain only molasses for color and flavor. Check your labels.
Yeast
This sugar pie recipe is very easy. Don't be put off by using yeast if you're not used to it. Just make sure the yeast is active (hasn't expired) and that you have several hours before dessert time, because it does take a while for the pastry dough to rise. You may find that you really like working with yeast. It has a wonderful smell and yeast breads baking in the oven make the whole house seem a wonderful place to be.
Serve your sugar pie warm. Some people might like to dress it up a bit more with some fresh fruit topping, ice cream or whipped cream. We like it as is - a not too sweet, not too rich dessert.
Sugar Pie Recipe

Tarte au sucre
Makes 8 servings
Ingredients
For the crust:
1/3 cup milk
1 1/2 teaspoons active dry yeast
2 cups flour
1 egg
1/4 cup white sugar
6 tablespoons softened butter, cut in small pieces
1/2 teaspoon salt
For the topping:
3/4 cup raw sugar (or use light brown sugar)
2 eggs
1 cup heavy cream (whipping cream)
2 tablespoons butter
Directions
Heat the milk in a saucepan until it is just warm to the touch. Remove from the heat and stir in the yeast until completely dissolved.
Place the flour in a mixing bowl and make a large well in the center of the flour. Into the well, add the egg, sugar, butter,salt and the milk. Roll up your sleeves, get a sturdy wooden spoon and start mixing. This mixes into a stiff dough and requires a strong arm to ensure that all is well blended.
Cover the dough with plastic wrap and leave the bowl in a warm place to rise. Let rise until it is double in volume. Depending on how warm it is and on how active your yeast is, this could take from one to three hours.
Once the dough has risen, use your finger tips to fit it in the bottom of a 10 inch round non-stick cake pan or pie tin. Turn the oven on to 400 ° F and let the dough rise again for 15 minutes while the oven is warming.
Sprinkle the dough evenly with the raw sugar. Whisk the two eggs and then whisk in the heavy cream just until mixed. Pour this on top of the sugar topped dough. Cut the final two tablespoons of butter into about twenty tiny pieces and place these evenly atop the pie.
Bake at 400° F for 25 minutes. Serve warm.
Flanders
If you would like to try another recipe from Flanders, here is an Easy Beef Stew Recipe known as carbonnade. It features cubed beef, onions, beer and a touch of sugar cooked to lightly caramelized perfection.
New!

Comments

Have your say about what you just read! Leave me a comment in the box below.