Chocolate Pot de Creme
This chocolate pot de creme is one of easiest French dessert recipes. It gives the final sweet touch to an elegant or everyday meal. You can make it in just a couple of minutes, the only time consuming part being that it must sit for several hours in the refrigerator.
Variations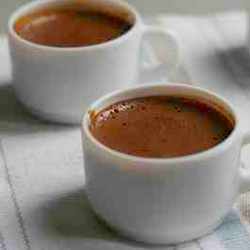 Petites pots de creme means little pots of cream in French. You can find many variations on this dessert in France. Some are cooked on the stove top and some bake in a dish of hot water in the oven. Some of the different flavors are:
lemon
orange
raspberry
almond
coconut milk
coffee
caramel
and of course, chocolate!
This chocolate pot de creme is a good place to start if you are looking for a simple dessert. Chocolate is a sure winner with most palates and this dessert could not be simpler. I made the pots in some little espresso cups I had in the cupboard which made for dainty servings, just like I like my dessert. But if you're like the rest of my family, you'll probably want seconds.
Please note that the eggs in this do not really cook, so be sure to use absolutely fresh eggs, keep the pots well refrigerated, and eat them within 24 hours.