Chocolate Pot de Creme
This chocolate pot de creme is one of easiest French dessert recipes. It gives the final sweet touch to an elegant or everyday meal. You can make it in just a couple of minutes, the only time consuming part being that it must sit for several hours in the refrigerator.
Variations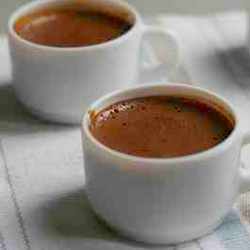 Petites pots de creme means little pots of cream in French. You can find many variations on this dessert in France. Some are cooked on the stove top and some bake in a dish of hot water in the oven. Some of the different flavors are:
lemon
orange
raspberry
almond
coconut milk
coffee
caramel
and of course, chocolate!
This chocolate pot de creme is a good place to start if you are looking for a simple dessert. Chocolate is a sure winner with most palates and this dessert could not be simpler. I made the pots in some little espresso cups I had in the cupboard which made for dainty servings, just like I like my dessert. But if you're like the rest of my family, you'll probably want seconds.
Please note that the eggs in this do not really cook, so be sure to use absolutely fresh eggs, keep the pots well refrigerated, and eat them within 24 hours.
Petits pots de crème au chocolat
Makes 6 petits pots
Ingredients
1 cup half and half
7 ounces dark chocolate, chopped
3 tablespoons strong coffee (you can use decaf of course)
3 eggs
2 tablespoons cognac (or replace this with two more tablespoons coffee)
Directions
Bring the half and half to a boil on low heat. Remove from heat immediately and stir in the chocolate. Let rest for one minute to melt the chocolate, then blend until smooth. Stir in the coffee and mix until smooth again.
Beat the eggs until thick and lemon colored - about two minutes with a hand mixer. Add them to the chocolate and mix well, using the hand mixer if you wish. Add the cognac and once again mix until completely combined.
White it is still hot, pour the liquid into small dessert cups.
Refrigerate for at least two hours and even overnight if you wish. Serve cold and within 24 hours.
Some variations:
For a pretty effect, top your chocolate pot de creme with chopped pistachios.
Instead of cognac use Grand Marnier, Baileys, or Amaretto.
I haven't tried it, but I have seen this made with soy milk, as well as regular milk products instead of the half and half. Needless to say, this will give you a lower calorie and lower fat dessert. If you try it, I'd love to hear about your results.
New!

Comments

Have your say about what you just read! Leave me a comment in the box below.