Apple Custard Tart
This apple custard tart is known as tarte Normande in France. The crucial ingredient that makes it "Normande" is not the apples, but the Calvados apple brandy. Bake this French tart and your whole house will smell good.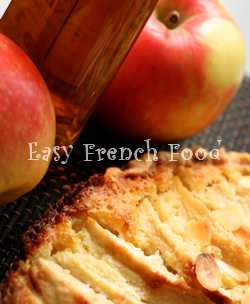 Recipe Notes
Apples.

Pink Lady apples are great in this apple custard tart. Their sweet taste competes well with the sugary custard that surrounds them. Of course, you may prefer something a little tarter, such as a Granny Smith.

Tart Crust.

You can use either a homemade or store bought crust for the Tarte Normande. It can be made with either a sweetened pie crust (

pâte sablée

) or unsweetened (

pâte brisée

). The crust should be "blind baked" before filling with the custard so that it does not turn soggy. Directions for blind baking are given in the apple custard tart recipe.

Ground Almonds.

This is such a typical ingredient in French cooking that we can always find it here in France. You can grind your own almonds in a coffee or nut grinder - be sure to use peeled almonds. Otherwise, it is fairly easy to find almond meal flour.