Apple Custard Tart
This apple custard tart is known as tarte Normande in France. The crucial ingredient that makes it "Normande" is not the apples, but the Calvados apple brandy. Bake this French tart and your whole house will smell good.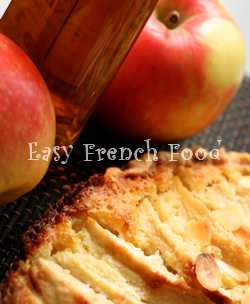 Recipe Notes
Apples.

Pink Lady apples are great in this apple custard tart. Their sweet taste competes well with the sugary custard that surrounds them. Of course, you may prefer something a little tarter, such as a Granny Smith.

Tart Crust.

You can use either a homemade or store bought crust for the Tarte Normande. It can be made with either a sweetened pie crust (

pâte sablée

) or unsweetened (

pâte brisée

). The crust should be "blind baked" before filling with the custard so that it does not turn soggy. Directions for blind baking are given in the apple custard tart recipe.

Ground Almonds.

This is such a typical ingredient in French cooking that we can always find it here in France. You can grind your own almonds in a coffee or nut grinder - be sure to use peeled almonds. Otherwise, it is fairly easy to find almond meal flour.
Apple Custard Tarte Normande
Preparation Time: 25 minutes
Baking Time: 35 minutes
Makes 6 servings
Ingredients
1 round of pie dough
4 apples - about 2 pounds
2 eggs
1/2 cup sugar
1/2 cup ground almonds
1/2 cup heavy cream
2 tablespoons Calvados apple brandy
handful of sliced almonds
Directions
Fit the pie dough to a 10 inch tart pan, pressing it firmly onto the sides and bottom. Wrap the crust in plastic wrap and place in the freezer for at least 30 minutes - over night is fine too. Preheat the oven to 400°F (200°C). Place the unwrapped, frozen tart shell in the oven to bake for 12 minutes. Remove from the oven and allow to cool.
Meanwhile, peel the apples and then cut them into quarters and slice out the core. Slice each quarter into four slices.
Beat the eggs until they are frothy. Beat in the sugar until the mixture thickens slightly (about 1 minute with a hand mixer). Beat in the ground almonds, heavy cream and brandy.
Place the apple slices in an attractive pattern in the tart shell (this is totally optional - you can just toss them in there as well). Pour the egg mixture on top of the apples and sprinkle the sliced almonds on top.
Carefully place the tart in the oven and lower the oven temperature to 375°F (190°C). Bake for 35 minutes.
Serve the Tarte Normande while it is still warm, perhaps with a dollop of sweetened whipped cream or crème fraîche. You can even spike the cream with a little Calvados if you wish.
A la Normande
There are quite a number of popular recipes that get the name "Normande" tacked on to them. Normandy France is well known for its apples, so most times these recipes have apples in them in one form or another. However, one wouldn't want to miss out on the other fabulous foods of Normandy including cream, butter, cheese (Neufchatel cheese is a favorite of mine), Benedictine liqueur, as well as an incredible variety of seafood and meat specialities.
All those Normandy apples aren't used just in tarts. Quite a few end up going into one of the special drinks the region is famous for: juice, cider, brandy, and pommeau. The brandy is known simply as Calvados (or even Calva), the name of the department in which it is produced. Although I have to say it is an optional ingredient in this apple custard tart, Calvados is what makes this recipe a Tarte Normande.
New!

Comments

Have your say about what you just read! Leave me a comment in the box below.