Recipe for Baked Apples
You'll love the effect this recipe for baked apples will have on your house. As the apples and cinnamon are baking, your kitchen will fill with the most divine smell - almost as good as this baked apple recipe tastes!
A French Idiom
This recipe for baked apples is called Pommes Bonne Femme in French. You will find many simple recipes in France with the term bonne femme tacked on the end. The literal translation would be Good Woman Apples, but bonne femme, or good woman, has several additional meanings in French.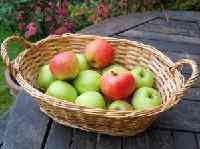 Often when people refer to a woman as a bonne femme, it is because she is old and feeble. Which is sort of funny because one of the meanings of a bonhomme (or good man) is an old man in robust shape.
You will also hear people use the term bonne femme in a derogatory fashion referring to a peasant woman, or someone who they are assuming to be simple minded. Not too complimentary really.
Apples with a Good Reputation
But it is possible this recipe for baked apples got its name for a different reason. According to some linguists the term bonne femme, when applied to things like recipes or medical remedies, actually derives from the latin words bona fama, referring to something of good reputation. So perhaps these apples are well known for being good.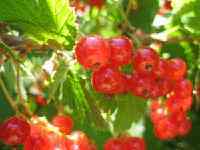 They certainly are in our house. I made this recipe with Pink Ladies, and although the apples lost all of their pretty blush, the results were outstanding for minimal effort.
To give this dessert the extra French touch, sprinkle with a few toasted slivered almonds and a teaspoon of red currant jelly.