Back to Back Issues Page

La Marmite, Issue #6 -- Buckwheat Crepes Recipe
For a Chandeleur Celebration
January 15, 2009
Bonjour et bienvenue to the sixth issue of La Marmite!
In this issue you will find featured:
Chandeleur - Candlemas in France is often celebrated by making and eating crepes.
Crêpes au Sarrasin - Buckwheat crepes recipe from the Brittany region.
Vegetable of the month - I give you the Turnip (don't look so glum).
Book Review - My Life in France, by Julia Child.
---
Meilleurs Voeux
Let me start by wishing you a Happy New Year!
The month of January in France is spent wishing all friends the best for the coming year. People send out cards (interesting to note that Christmas cards are not a big tradition in France), bosses, politicians, and other bigwigs give elaborate speeches, and you need to wish good luck for the coming year to any acquaintances you meet.
Most times people do this by simply saying Meilleurs Voeux, or best wishes.
---
Chandeleur
After the Fete de Roi on January 6th (sorry that I didn't get to this - next year I'll devote an issue to this celebration, including a recipe for the delicious frangipane filled galette), the next traditional celebration, called Chandeleur in France, falls on February 2nd, forty days after Christmas.
As with many celebrations, the exact origins and meaning of Chandeleur are somewhat confused and lost in history. It is officially forty days after the birth of Christ and the day he was first presented in the temple, a day that is still commemorated by blessing and lighting candles, called chandelles in French.
However, people were celebrating the near end of winter long before the Catholic Church took this celebration under its wing. Some say that the crepe became associated with Chandeleur as it represents the sun and its gradual victory over winter. Others believe that it was the Pope who long ago distributed crepes to pilgrims arriving in Rome to celebrate Chandeleur.
Whatever the origins, and although for many people the primary activity of Chandeleur is blessing candles and participating in processions, February 2nd is definitely the day to eat crepes in France.
Some fun traditions and superstitions accompany this feasting:
In Provence this is the day the Christmas creche is taken down.
For good luck you should flip the crepe holding the pan in your right hand and a piece of money in your left.
The first cooked crepe should be kept, and even thrown up on top of the kitchen cupboard to assure a good harvest that year. (Uhmm, that sounds smelly.)
Depending on where you go in France, you will find different sorts of crepes. Some fine, some thick, some crispy, some soft, some small, some huge. In the Champagne region they are called tantimolles, in Gascony they are called crupets, and so on all across the country.
Have fun making and enjoy eating such delicious recipes as Poached Eggs and Mushroom Crepes and Ice Cream Crepes with Caramel Sauce.
---
Buckwheat Crepes Recipe
If you decide to celebrate Chandeleur along with the French, you might like to do so with this buckwheat crepes recipe. These are the traditional crepes made in the Brittany region, and many people consider them to be the crepe for Chandeleur.
(Did you know that buckwheat, which is called sarassin in French, is not wheat at all but is more closely related to rhubarb?)
Crêpes au sarrassin
1 cup buckwheat flour
1/4 cup all-purpose flour
3/4 cup milk
3/4 cup water
2 eggs
1 tablespoon oil
1/4 teaspoon salt
butter to cook the crepes
Whisk all of the ingredients together to make a smooth batter. Allow the batter to sit in the refrigerator several hours before cooking.
You may need to add more milk at this point. You want the batter to be pourable, but not too liquid.
To cook, heat a non-stick skillet or crepe pan on medium heat until hot. Using a paper towel coat the bottom of the pan with a bit of butter. Pour in a scant 1/4 cup of batter (for about 9 inch crepes) and tilt and turn the pan to spread the batter evenly. Once the top of the crepe is just cooked, use a spatula to gently turn it and cook for 15 more seconds. You may have to adjust your heat to get the crepes just right - they should be lightly browned on both sides.
As you cook each crepe, stack and wrap them in a clean tea towel. This will keep them warm. Or you can rewarm them by wrapping in aluminum foil and warming in the oven.
Makes about 10 crepes.

Print Recipe
---
Crepes Recipe Fillings
Although you can certainly serve crepes as a sweet treat (for some ideas check out this breakfast crepe recipe), buckwheat crepes lend themselves naturally to savory interpretations. Here are a few simple ideas to get you started
Crêpes Montagnardes: slice of ham, cooked potato slices, slice of Reblochon cheese
Crêpes Océanes : slice of smoked salmon topped with crème fraîche and fresh dill.
Quatre Fromages: mix of Emmental, Camembert, Comté, and Blue cheese. After it is filled, bake these crepes for a few minutes to get the cheese melted.
Chevre et Lardons: Goat cheese and chopped cooked bacon.
In France people like to have crepe parties. A large variety of ingredients (only limited by your imagination) are made available to guests and everyone fixes their crepe to their liking. Many times a quick heating in the oven is needed to melt cheese and bring out flavors.
---
Vegetable of the Month: The Turnip
OK, I promised you one vegetable a month, but I didn't say I was going to be easy on you. I'm trying to get you to try something that perhaps you have been overlooking for years. And I suspect the turnip may be on your list of forgotten vegetables.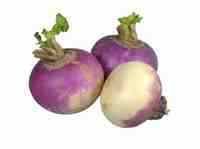 I recently used them in this Lamb Stew Recipe and you are not going to believe how tasty they are when cooked this way. Turnips are great absorbers of flavors (maybe a bit like tofu in that way), and in this recipe, a touch of sugar and the robust taste of lamb, make them true star vegetables.
And if you need nutritional motivation to pick up a few of these at the grocery store, have a look at this page all about turnips.
---
Survey
Thanks to all who took the time to fill out the survey. Looks like you want it all: recipes, cultural and regional information. I better get to work!
For starters, those of you who want more recipes, here's what's new on Easy French Food since last month:
Crockpot Lemon Chicken Recipe

Vinaigrette Recipes
(Thanks to Susan from Paper Craft Central for the inspiration!)
Next Issue
Thanks so much for spending some time with me. In the next issue, due out on February 17th, you can learn about how Mardi Gras (February 24th) will be celebrated in France this year.
If you're receiving this newsletter because a friend forwarded it to you, you can sign up for your own copy of La Marmite: Subscribe to La Marmite.
A bientot and remember to enjoy your food!
Your friend in France,
Kim
---
Back to Back Issues Page