Raspberry Sauce Recipe
Here is an easy raspberry sauce recipe that's so good you may find yourself eating it by the spoonful. But don't miss out on pouring this fruit coulis on top of your favorite desserts and exploring some wonderful taste combinations.
Cassis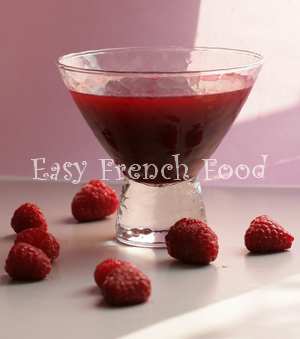 This raspberry coulis gets an extra punch of flavor from crème de cassis, a sweet and luscious French liqueur made from black currants. Crème de cassis is the key ingredient in a Kir Royal, a fabulous Champagne cocktail. You can also add cassis to a dry white wine for a more ordinary, but nonetheless delicious, before dinner drink.
Uses for Raspberry Sauce Recipe
This sweet coulis goes well with other fruit flavors and is divine with chocolate. Try it in a delicious and classic Peach Melba recipe or with this decadent chocolate mousse cake recipe. Pour it on top of plain yogurt, vanilla ice cream or crème fraiche for a simple, but oh so yummy, treat. It would also go great on a plain cheesecake or for a more unusual taste combination, try it with figs.
Raspberry season is too short to miss out on having this sauce other times of the year, so do not hesitate to try making this with frozen raspberries. Commercially frozen fruit tends to be a bit sour, so do use the sugar and liqueur to correct for this. If you make this sauce with fresh raspberries that are quite sweet, you may wish to lighten up on the sugar a bit.