Cream of Cauliflower Soup Recipe
Try this cream of cauliflower soup recipe as a starting course for an elegant French inspired meal. Called Crème du Barry in France, its name lies in history, like many good French recipes.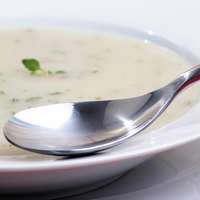 Recipe Notes
This cream of cauliflower soup recipe is traditionally made using a chinois to smooth it to perfection after blending.
You will want to include this gadget in your cooking arsenal if you are devoted to attaining real French results at home. It is a tool you'll use over and over again. However, in keeping with the theme of this site, I have to say that I don't think this cream of cauliflower soup recipe is any less good if you don't use a chinois.
Please note that egg yolk is added towards the end of the recipe. It is important that you do not over heat the soup after adding this or it will curdle. To add a little crunchy interest, try topping this soup with a few homemade croutons. They are quickly made while the soup is cooking.
If you serve this cream of cauliflower soup recipe as an entree, be sure to consider that it is fairly rich when planning the rest of your meal. A lighter main dish, maybe fish and vegetables, followed by a cheese course, then a fruit dessert sounds balanced and delicious to me.