Cream of Cauliflower Soup Recipe
Try this cream of cauliflower soup recipe as a starting course for an elegant French inspired meal. Called Crème du Barry in France, its name lies in history, like many good French recipes.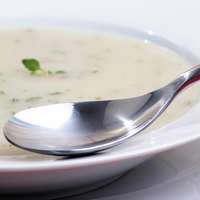 Recipe Notes
This cream of cauliflower soup recipe is traditionally made using a chinois to smooth it to perfection after blending.
You will want to include this gadget in your cooking arsenal if you are devoted to attaining real French results at home. It is a tool you'll use over and over again. However, in keeping with the theme of this site, I have to say that I don't think this cream of cauliflower soup recipe is any less good if you don't use a chinois.
Please note that egg yolk is added towards the end of the recipe. It is important that you do not over heat the soup after adding this or it will curdle. To add a little crunchy interest, try topping this soup with a few homemade croutons. They are quickly made while the soup is cooking.
If you serve this cream of cauliflower soup recipe as an entree, be sure to consider that it is fairly rich when planning the rest of your meal. A lighter main dish, maybe fish and vegetables, followed by a cheese course, then a fruit dessert sounds balanced and delicious to me.
Crème du Barry
Prep time: 25 min
Cook time: 40 min
Ingredients
2 medium sized leeks
1 head of cauliflower
1/4 cup butter
1/4 cup all purpose flour
6 cups chicken stock or chicken bouillon
2 egg yolks
1/2 cup heavy cream
salt and pepper
Directions
Begin by preparing the vegetables. Cut the tough green ends and the root ends off of the leeks, then slice vertically from the green part down into the white part, about 2 inches. Wash in running water, fanning the green tops out, until all dirt and sand are removed. Chop the cleaned leeks.
Remove the leaves from the cauliflower, and rinse under running water. Slice the head in two and then slice off the florets from the central stalk. Place the florets in a pot of cold water and heat just until the water comes to a full boil. Remove from heat and immediately drain, then rinse with cold water. Set aside about 1 cup of cauliflower for the decoration, breaking them into small florets.
In a large Dutch oven, or similar heavy soup pot, melt the butter, then add the chopped leeks. Cook, stirring occasionally for about 5 minutes, or until the leek starts to soften (without browning).
Add the flour and stir to coat the leeks completely. Add the stock or bouillon gradually, stirring continually with a wooden spoon to keep things smooth and blended (start very slowly and gradually add more as things blend). Bring the mixture to a boil, add the cauliflower, then adjust the heat so the soup is at a simmer (very low boil). Simmer for 30 minutes, or until the cauliflower is very tender.
Allow the soup to cool some, then process it in a blender, working in small batches and returning the soup to another pot. If you wish, you can strain the blended soup through a chinois for a very refined and smooth effect.
In a mixing bowl, whisk together the egg yolks and the heavy cream. Add one ladle full of warm soup and whisk to combine. Pour this mixture into the soup and warm on low heat to desired temperature. Do no boil the soup or the egg yolks will curdle. Season to taste with salt and pepper.
To serve place a couple of the reserved florets in each bowl, before pouring the soup on top. You can further decorate with paprika and chives if you wish.
La Comtesse du Barry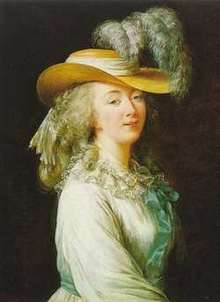 This easy soup is named after the countess Madame Jeanne Bécu Du Barry, a famous French beauty (portrayed here by Élisabeth-Louise Vigée-Le Brun) who was the last official mistress of the ill-fated king, Louis XV. It was a common practice of the time to recognize royalty and other public figures in the naming of new culinary exploits. The term du Barry is associated with other dishes and indicates the presence of cauliflower.
La Comtesse met a rather tragic fate: she was beheaded along with many other royal figures during the French Revolution. I'm not sure how glamorous it is to be forever after associated with a vegetable, but I suppose one could do a lot worse than the beautiful countess.
New!

Comments

Have your say about what you just read! Leave me a comment in the box below.