Cauliflower Au Gratin
Cheese Topped Cauliflower Recipe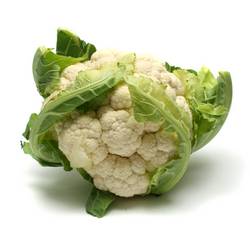 Cauliflower au gratin is an easy and delicious way to get your family to eat their vegetables. Wrapping it up in a cheese sauce makes this mild vegetable take on new popularity at the dinner table. And here at Easy French Food, you get your cauliflower recipe plus a little French lesson along with it.
Au Gratin
This is one French culinary term that has gained very popular usage in English. Most times when English speakers refer to a dish being au gratin, they are imagining it baked and covered in melted cheese.
In French, however, the term au gratin is a bit more broad. Here, the actual layer that tops a baked dish is considered a gratin. In practice this is frequently cheese, but it could also include bread crumbs and other ingredients.
The term gratin gives rise to a couple of fun French expressions:
Le gratin

refers to the most distinguished members of a society. If you hear someone talking about

tout le gratin

they are talking about all the people that count (to them anyway).
When something is

gratiné

, it might just be covered in cheese, or it might be something quite out of the ordinary.

Une cuite gratinée

is an especially awful hangover.
So you might like to consider this recipe to be an exceptionally tasty way to enjoy cauliflower and fit for the most upper crust amongst us. Be sure to serve it in a pretty au gratin dish.
If you have a lot of cauliflower, have a look here for some more easy cauliflower recipes.
Return to Easy Vegetable Recipes.