Chicken Stock Recipe

An easy chicken stock recipe should be part of every home chef's repertoire. Homemade stock can make a noticeable difference in recipe results, perhaps especially with soups.
Making Chicken Stock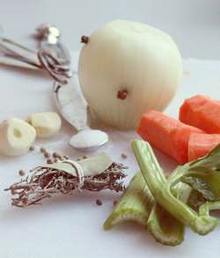 Bouillon Cubes.
You may have noticed that I call for bouillon cubes in some of the easy soup recipes and other recipes on Easy French Food. This is simply a matter of convenience and an accurate reflection of modern French home cooking. Canned chicken stock is not typically available in the grocery store, so we come to rely upon these cubes when in a pinch.
However, whenever possible, it is far preferable to use your own homemade chicken stock recipe instead of bouillon cubes. The flavor is a thousand times better and depending on the recipe may make quite a difference in the final result.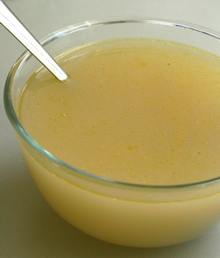 The Homemade Stock Habit.
Getting into the habit of making your own stock is fairly simply. You just need to select a time slot when you will be home for a couple of hours. The actual work involved is almost zero.
One easy way to ensure that you'll always have homemade chicken stock available is to frequently roast a chicken for dinner. Roast chicken needn't be stuffed and it makes one of the easiest meals in the world. Once again, a dish that requires next to no work, just your presence to make sure things stay on track. (Want one more reason to start roasting chickens? The house smells incredible!)
The next day you can simmer the carcass of the roast chicken in a pot of water along with a few simple enhancements, et voilà, you have homemade chicken stock.