Carrot Soup Recipe
This easy cream of carrot soup recipe can go as high class or as rustic as you wish. Serve it as a starter course to your next French inspired meal and let everyone be impressed by the creamy elegance of Potage Crécy. Or, for a more humble presentation, simply call it creamy carrot soup and watch your crew eat their vegetables without complaint.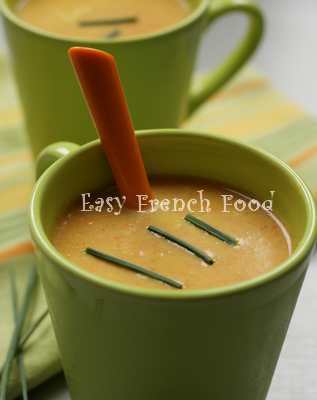 This carrot soup recipe is named after the town of Crécy, which was once reputed for the quality of its carrots - supposedly producing the finest and most tender in all the land. The only problem (orhic as the French might say) is that there is some debate over where Crécy of the Tender Carrot is located. Indeed there are quite a few towns in France with Crécy in their name and although the soup has remained intact, who to give credit to for its creation is not obvious.
Many people assume that the Crécy of soup fame is Crécy-en-Ponthieu, a town in the north of France already famous for having hosted the Battle of Crécy, pitting the French against the English in the 14th century. The Brits beat the pants off of the French, and supposedly celebrate their victory to this day by eating cream of carrot soup on the anniversary of the battle.
However, there are other people that contend that the finest carrots were grown near Meaux, east of Paris, in an area that boasts quite a few villages with Crécy in their name.
Who's right? Far for me to say - I used les carottes d'Aquitaine for my carrot soup recipe. I've been loving these carrots recently. They require no peeling, just a quick scrub, and are very sweet. So just be careful in selecting carrots for this recipe, and I'm sure you can still call it Potage Crécy.
By the way, do you know the difference between a potage and a soupe? You can find out on my French soups page.
Cream of Carrot Soup
Potage de Crécy
Prep time: 20 min
Cook time:
25 min
Makes 4 1 1/2 cup servings.
Ingredients
2 tablespoons butter
1 onion, peeled and chopped finely
1 1/2 pounds carrots, peeled if needed and sliced thinly
1 large potato, peeled and sliced thinly
1 clove garlic, crushed
4 cups chicken stock
1/4 teaspoon pepper
1/4 cup whipping cream
salt to taste
chives, chopped
Directions
In a large sturdy soup pot (or Dutch oven), melt the butter on medium heat. Cook the onions, carrots, potato, and garlic in the butter for 5 minutes, stirring occasionally. Add the chicken stock and pepper and bring the soup to a boil. Turn the heat down so that the soup is just barely bubbling. Cover the pot and cook the soup for 30 minutes.
Remove the soup from the heat and allow it to cool enough so you can comfortably puree it in a blender. Work in small batches and watch out for hot splashing soup! Once it is pureed return the soup to a pot. You can also puree this soup using a stainless steel food mill for a very smooth soup.
When you are done pureeing all the soup, stir in the whipping cream and season to taste with salt and additional pepper. You can further season this soup with such things as powdered dry ginger, cumin, and curry. All of these flavors go very nicely with carrots. I also like a pinch of cayenne.
Heat the soup to serve. Serve in bowls and garnish with chopped chives.
Carrot Soup Recipe Variations
Curried Carrot Soup
Curry flavors go very nicely with the slightly sweet flavor of carrots. Although it is not particularly French, adding a tablespoon of curry powder gives this recipe a delicious extra punch. Stir the curry powder into the cooked onions and vegetables just before adding the stock.
Carrot Ginger Soup
Ginger is another taste that goes very nicely with carrot. Add a tablespoon or so of minced ginger in with the garlic.
Related Recipes
New!

Comments

Have your say about what you just read! Leave me a comment in the box below.