Cauliflower Casserole Recipe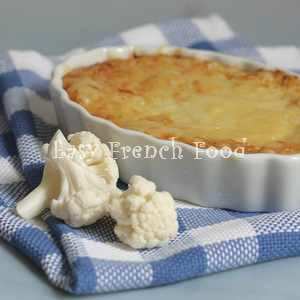 This easy mashed cauliflower casserole recipe is the perfect solution when you want to sneak in a vegetable on the picky eater's plate. Mashed and baked with cheese, this puree is so rich and satisfying that it could even act as a main dish when served with a mixed salad.
If you're looking for a tasty way to serve cauliflower, but get overwhelmed by its size, this dish can help out. One cauliflower makes a lot of eating, especially if you have only a few mouths to feed. By making it into a casserole, you extend its possibilities and leftovers are no problem, as this tastes fine warmed in the microwave the next day.
It is named after the Countess du Barry. She is a sort of patron saint of cauliflower recipes in France. You can read more about why here: cauliflower soup recipe.