Butternut Squash Soup Recipe
This easy butternut squash soup recipe is delicately flavored with lemon, ginger, cumin and garlic. It makes a creamy and satisfying soup - perfect for a light lunch or as starting course to a cozy meal on a dark day.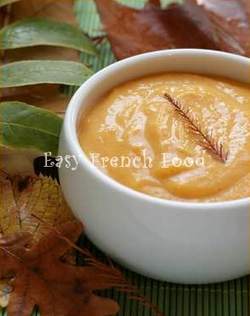 Butternut Squash Season
I made this butternut squash soup recipe on a particularly grey Parisian fall day - seemed as if the whole world had grown dim. When I sliced into the squash, a most glorious orange opened before me. Reason enough to try this most tasty soup.
Every fall a lovely variety of freshly harvested squash decorate a whole section of our grocery store. I say decorate, because I think that's as far as a lot of these squash will ever go. They do make colorful and interesting centerpieces for an autumn table, but to not cut into them is missing out on a lot of flavor and nutrition.
Squash are a relative newcomer to European tables. They originated in South America and had to wait for Columbus' discovery before they found their way to France. In France, the butternut squash is known as a sort of courge musquée and its particular name is a butternut, which must have come from English.
Preparing Butternut Squash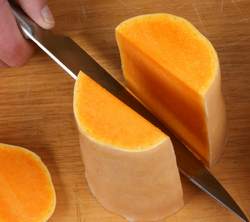 To prepare the vegetable for this butternut squash soup recipe, you will need a large sharp chef's knife, because this vegetable is a sturdy fellow. It is easy to cut it in two at it's "waist" and then cut these two pieces in half lengthwise. Scoop the seeds out.
At this point you may be tempted to peel with a paring knife, but I found it much easier to cut the peel off with the chef's knife, balancing a piece on its edge and slicing downwards.
Once it is peeled, it is easy to slice the squash into smaller pieces for this butternut squash soup recipe or whatever else you might be cooking.
The Easy Way
Here is a product that I would love to be able to get here in France. Canned butternut squash seems like such a good idea, making recipes like the one here something you could quickly put together, even after a day of working. Plus it makes it possible to enjoy this nutritious vegetable when it is out of season.
Potage à la courge musquée
Prep time: 25 min
Cook time: 35 min
Makes 6 to 8 servings
Ingredients
2 tablespoons butter
1 large onion, chopped
3 cloves garlic, pressed
2 teaspoons chopped fresh ginger
1/2 teaspoon cumin
1/4 teaspoon black pepper
1 butternut squash (about 2 pounds), peeled and diced in 1/2 inch cubes
1 large potato, peeled and diced in 1/2 inch cubes
1 quart of chicken or vegetable stock (or use water and bouillon cubes prepared according to package directions)
2 tablespoons tomato paste (concentrated tomato puree)
1 tablespoon fresh lemon juice
1/3 cup heavy cream
salt, if needed
Directions
In a Dutch oven or similar large sturdy pot, melt the butter on medium heat. Add the chopped onion, pressed garlic, chopped ginger, cumin and black pepper and cook, stirring occasionally, for five minutes.
Add the squash and potato and mix thoroughly with the onion mixture to coat the vegetables. Add the stock, tomato paste and lemon juice and stir to combine. Bring the soup to a boil, then turn the heat down. Cover the pot and simmer for 20 to 30 minutes - just until the vegetables are tender.
Remove from the heat and allow the soup to cool some before processing. Working in small batches, puree the soup in a stand blender, pouring the pureed soup into another pot as you go. Alternatively, you can use an immersion blender and puree the soup in the pot.
Once it is smooth, return the soup to the heat and stir in the cream. Season to taste with salt and pepper. Warm through and serve immediately.
New!

Comments

Have your say about what you just read! Leave me a comment in the box below.