Potato Leek Soup Recipe
Hot or Cold Vichyssoise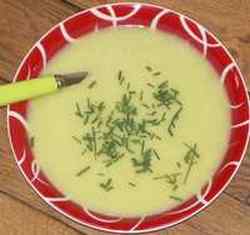 This potato leek soup recipe is very simple despite its somewhat haughty name. Vichyssoise makes a great starter for a company dinner because it can be made ahead of time and served whenever you wish. The fact that it is served cold makes it a bit exotic and this will probably please your guests. However, although it is traditionally served cold, nothing is to stop you from serving this soup warm if you wish. It is equally delicious.
Cooking Tip
If you're tired of the mess and difficulty of pureeing soups in the blender or food processor, try out a stainless steel food mill. It quickly purees all manner of things and clean up is a snap. These simple tools are very popular in France and I love mine.
Vichyssoise
6 servings
Ingredients
5 leeks, washed and chopped (use just the white part)
1 tablespoon olive oil
1 liter bouillon (chicken or vegetable)
4 potatoes, peeled and diced
salt and pepper
1 cup milk
1/4 cup heavy cream
1 bunch chopped chives (for garnish)
Directions
Cook the leeks in the olive oil for five minutes, without browning. Add the bouillon,the potatoes, and season with salt and pepper. Simmer for about 20 minutes or until the potatoes are soft.
Remove from heat and let cool a bit. Pour the soup into a blender or food processor and blend until smooth. Pour it back into the pot, stir in milk and heavy cream, and simmer for five more minutes without boiling.
Let cool completely and than refrigerate for at least two hours. You can make it a day ahead and leave it to chill overnight in the refrigerator as well.
Serve cold with chopped chives for garnish.
New!

Comments

Have your say about what you just read! Leave me a comment in the box below.
>