Lentil Tomato Soup Recipe
This simple French lentil tomato soup recipe is perfect for a quick and light dinner. If you serve it over rice you'll have a complete protein for a vegetarian meal. Or top it with shredded cheese for extra substance.
The Versatile Lentil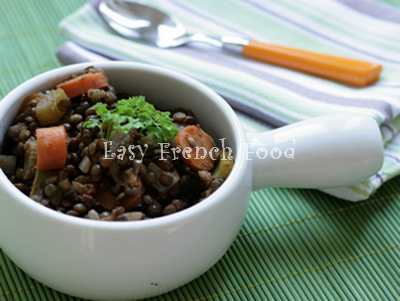 I make this with French green lentils which hold up well in the pot, but still cook quickly like other lentils. However, please don't hesitate to play around with your lentil soup - it'd be really hard to mess up. Here's some ideas for variations:
Lentils: Try yellow, red, or brown. There are even tiny black Beluga lentils for you to try.
Flavorings: To keep this lentil tomato soup French, I went light on the garlic and spices in this recipe. Pick up the pace with cumin, cayenne, cinnamon, or ras el hanout.
Vegetables: Eggplant (which you should saute or roast separately before adding), mushrooms (add with the carrots and onions), or spinach (add towards the end of cooking), all go nicely with lentils. If you want even more tomato flavor, stir in some concentrated tomato puree towards the end of cooking time.
Toppings: chopped fresh herbs (parsley, cilantro, or tarragon), grated gouda cheese, yogurt or crème fraîche.
Soupe de lentilles aux tomates
Preparation time: 20 minutes
Cooking time: 35 minutes
Makes 6 servings.
Ingredients
2 onions, peeled and chopped
4 medium carrots, sliced in rounds (about 2 cups)
2 stalks celery, chopped (about 1 cup)
2 cloves garlic, peeled and minced or pressed
1/4 cup olive oil
6 cups vegetable stock (or use water and bouillon cubes)
1 pound uncooked French green lentils (about 2 cups)
1 14 1/2 ounce can diced tomatoes
2 tablespoons champagne vinegar
salt and pepper
Directions
In a heavy soup pot, heat the olive oil on medium heat. Add the onions, carrots, celery and garlic. Cook, stirring occasionally, for 10 minutes or until the vegetables start to brown a little.
Add the vegetable stock or add the water and stir in the bouillon cubes, making sure they dissolve completely.
Add the lentils, canned tomatoes, and bouquet garni. Bring to a boil, then turn the heat down so the soup is just barely boiling.
Cover partly with a lid and then cook for at least 35 minutes or until the lentils are tender.
You may wish to add some more water if the soup becomes too thick for your taste.
Towards the end of cooking, stir in the champagne vinegar and season to taste with salt and freshly ground pepper.
New!

Comments

Have your say about what you just read! Leave me a comment in the box below.