Pea Soup Recipe
Here is a quick and practical pea soup recipe known as potage Sain Germain that uses frozen green peas. My family is always resisting peas for some reason, but they lapped this up without a backwards glance.
Recipe Notes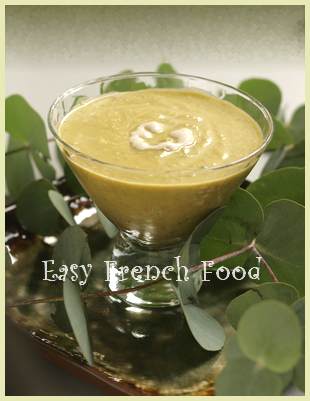 Preparing leeks requires special attention. You'll find instructions for cleaning them in the pea soup recipe below. Be sure to rinse them thoroughly, because they can hide invisible bits of sand that will later show up as grit in your food. Most likely harmless, but nonetheless a bit disagreeable.
I used dried thyme in the recipe but you can also use fresh tarragon or mint to flavor the potage a little differently.
If you are using frozen peas to prepare this soup, just go ahead and add them to the pot while they are still frozen. They'll defrost as the pea soup recipe is cooking.
The cream that is stirred in at the end of this pea soup recipe is completely optional. You might want to skip it and substitute a dollop of yogurt on top of the soup just before serving.