Strawberry Tart Recipe
Here is a French strawberry tart recipe that you can vary to showcase whatever seasonal fruit you have on hand. I cut out a few steps and a few ingredients to make this fruit recipe as fast and simple for you to fix. >
Strawberry Tart
The Hard Way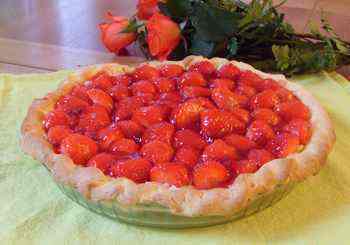 In addition to my much loved (and showing it) Larousse de la Cuisine which I bought upon arriving in France, I also have a special edition called the Larousse des Desserts. This book was worth its purchase price for the photos alone. It's fun to flip through the book and dream about the different elaborate desserts you could make. However . . .
My Way
When it came time to find a strawberry tart recipe the other day (we were having company, otherwise those strawberries would have been eaten as is), it wasn't the recipe in my fancy cookbook I was going to follow. The recipe I found there called for a pastry cream that had it's own recipe page, and even that recipe called for another cream on another page. I was flipping back and forth through the pages and watching the ingredient list grow and thinking, oh no, another trip to the grocery store . . .
STOP!
Don't have time for that one, even if I'd like something nice to serve for dessert. So I simplified matters down to their essentials, and here are the results. Delicious and quickly fixed even by a novice chef (which I will forever be).
Tart Making Tips
Bake the tart shell and make the filling (crème pâtissière) ahead of time and refrigerate.
Assemble the tart just before serving otherwise it tends to get soggy and messy looking.
You should try to find small strawberries for this strawberry tart recipe. Smaller strawberries are often more flavorful, and here they offer the additional advantage of making for a prettier look for the finished tart.
This is a basic French tart recipe:
pâte brisée crust
, filled with
crème pâtissière
, topped with fruit and a glaze. You can use the same formula with apricots, peaches, raspberries, or whatever fruit you might have on hand.