Strawberry Tart Recipe
Here is a French strawberry tart recipe that you can vary to showcase whatever seasonal fruit you have on hand. I cut out a few steps and a few ingredients to make this fruit recipe as fast and simple for you to fix. >
Strawberry Tart
The Hard Way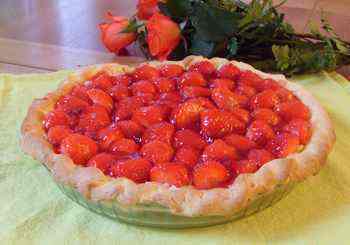 In addition to my much loved (and showing it) Larousse de la Cuisine which I bought upon arriving in France, I also have a special edition called the Larousse des Desserts. This book was worth its purchase price for the photos alone. It's fun to flip through the book and dream about the different elaborate desserts you could make. However . . .
My Way
When it came time to find a strawberry tart recipe the other day (we were having company, otherwise those strawberries would have been eaten as is), it wasn't the recipe in my fancy cookbook I was going to follow. The recipe I found there called for a pastry cream that had it's own recipe page, and even that recipe called for another cream on another page. I was flipping back and forth through the pages and watching the ingredient list grow and thinking, oh no, another trip to the grocery store . . .
STOP!
Don't have time for that one, even if I'd like something nice to serve for dessert. So I simplified matters down to their essentials, and here are the results. Delicious and quickly fixed even by a novice chef (which I will forever be).
Tart Making Tips
Bake the tart shell and make the filling (crème pâtissière) ahead of time and refrigerate.
Assemble the tart just before serving otherwise it tends to get soggy and messy looking.
You should try to find small strawberries for this strawberry tart recipe. Smaller strawberries are often more flavorful, and here they offer the additional advantage of making for a prettier look for the finished tart.
This is a basic French tart recipe:
pâte brisée crust
, filled with
crème pâtissière
, topped with fruit and a glaze. You can use the same formula with apricots, peaches, raspberries, or whatever fruit you might have on hand.
Tarte aux fraises
Makes 6-8 servings
Ingredients
1 uncooked tart crust (pâte brisée or you could use a commercial pie dough)
3 tablespoons sugar, divided
3 tablespoons corn starch
1 cup milk
2 egg yolks
1/2 tablespoon butter
2 pounds strawberries, washed, dried and stemmed
3 tablespoons currant jelly
Directions
Fit the pâte brisée or pie dough to a 10 inch tart pan if you have one, otherwise a pie pan will work fine. Prick the bottom of the pie shell with a fork in several places. Place in the freezer for 15 minutes as the oven warms. Cook for 15 minutes at 400°F.
Meanwhile, prepare a custard (crème pâtissière) with the other ingredients. Warm the milk over medium heat and stir in half of the sugar.
In a heavy glass bowl, beat the egg yolks with the rest of the sugar until they are light and thick. Whisk in the corn startch. Then, slowly whisk in the hot milk and pour it all back into the pan.
Continue heating until almost boiling and the cream has thickened, whisking continually. Remove from heat and stir in the butter.
Let the custard cool completely than spread it in the cooled pie shell. Cover with plastic wrap and refrigerate until ready to serve.
To serve, cut the strawberries in half and place them cut-side up on top of the pie. Make a glaze with the currant jelly and two tablespoons of water. Apply the glaze to the strawberries with a pastry brush.
New!

Comments

Have your say about what you just read! Leave me a comment in the box below.