Salmon Appetizer Bread Recipe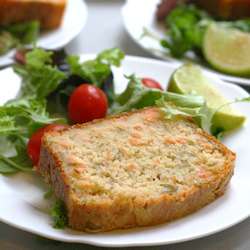 Try this salmon appetizer bread recipe either as an hors d'oeuvres or as a starting course. It is made with fresh salmon fillet and can include various herbs depending on what you have available.
Savory breads such as this are known as cakes in France and they make very popular fare for casual cocktail parties. They can also be dolled up a bit and served in slices for a lovely and satisfying first course.
Serving Savory Breads
Just like other savory breads, this salmon appetizer bread recipe slices easily into bite sized cubes, making it a popular and easy appetizer recipe. Just serve on a platter with a few toothpicks - I promise they will be gobbled up.
However, my favorite way to serve this salmon appetizer bread recipe is as an entrée (starter course). Place a slice of bread on a bed of mixed baby greens, and add a few cruidtés and a slice of lemon or lime. A squirt of citrus really brings out the lovely taste of salmon and is all that is needed for a salad dressing.
Most savory bread recipes can be made a day in advance, wrapped well in plastic wrap, then refrigerated. Allow the bread to come to room temperature and slice just before serving for maximum enjoyment.
Cake au saumon
Preparation Time: 30 minutes
Baking Time: 45 minutes
Makes one loaf of bread: approximately 12 starter course slices, or for an appetizer, about 100 bite-sized cubes.
Ingredients
2 leeks, white part only
1/2 pound salmon fillet, diced
2 tablespoons olive oil
1 1/2 cups flour
2 teaspoons baking powder
1/2 teaspoon salt
1/4 teaspoon pepper
1 cup milk
3 eggs
1 tablespoon Dijon mustard
2/3 cup vegetable oil (sunflower, safflower, or canola)
3 1/2 ounces (approximately 1 1/2 cups) grated cheese (Swiss, Gruyère, Emmental)
1 ounce fresh tarragon, sorrel, or basil, chopped
Directions
Preheat the oven to 350°F (180°C). Grease a 9 or 10 inch loaf pan.
Clean the leeks by first slicing off the tougher green tops and the root ends. Then slice them in two vertically leaving the last several inches intact on the base end. This allows you to fan out the leaves and get out all the dirt and grit under running water. Clean well - the sand can be hard to see, but not to feel. Chop the leeks.
Heat the olive oil in a medium skillet on medium heat. Add the leeks and cook stirring occasionally for several minutes. When the leeks start to soften add the diced salmon and continue cooking until the salmon is just cooked through - about five minutes. Remove from heat and allow to cool a few minutes.
While the salmon is cooking, stir together the flour, baking powder, salt and pepper in a mixing bowl. Stir in the milk (batter will be quite thick at this point - you can use a hand or stand mixer if you wish).
Beat in the eggs and mustard to form a smooth batter. Carefully stir in the oil and mix until smooth.
Stir in the salmon and leeks, grated cheese, and any herbs you might be using.
Scrape the batter into the prepared loaf pan and bake in preheated oven for 45 to 50 minutes, or until browned. A toothpick inserted in the middle of the bread should come out clean.
Remove from the oven and cool completely before slicing.
Variations: Savory quick breads are very adaptable to your creative changes. Try using fresh goat cheese, throw in some chopped dried tomatoes, or use some smoked salmon as a replacement for part of the fresh salmon.
New!

Comments

Have your say about what you just read! Leave me a comment in the box below.