Olive Bread Recipe
The olive bread recipe given here is a classic combination you will find hosts all over France serving up at l'heure de l'apéritif (cocktail hour). It features green olives, cubed ham, and Gruyère cheese. Feel free to substitute different ingredients for these, just respect the proportions for the rest of the cake.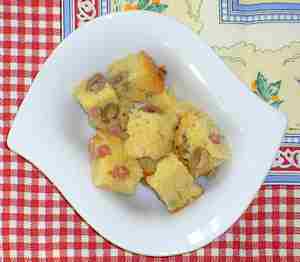 Savory quick breads, such as this olive bread recipe, are often served as appetizers in France. They are called cakes and will include different vegetables and meats. You might find bacon and prunes included together, or feta and basil, or salmon and zucchini. I'm sure you can think up your own wonderful taste combination.
I need to note too for those of you who are used to following non-French cake recipes that the order of mixing the ingredients is a little different. I am always alarmed when I follow a French cake recipe by adding the eggs right into the flour as a first step, but it works out, even if it is a little lumpy along the way.
To serve the bread, let it cool completely, then cut it into one inch cubes for bite-sized enjoyment. Delicious and easy.
Cake Aux Olives
Preparation Time: 25 minutes
Baking time: 55 minutes
Makes one substantial loaf of bread, or about 150 cubes.
Ingredients
2 cups all purpose flour, plus 2 tablespoons
2 teaspoons baking powder
4 eggs
2/3 cup safflower oil
1 cup dry white wine
1 1/2 cups pitted green olives, floured lightly
1 1/2 cups cubed ham
6 ounces grated cheese (Gruyère is used in France, but you can use cheddar or jack)
1/4 teaspoon pepper
Directions
Drain the olives of any brine and then toss them with 2 tablespoons of flour to lightly coat them. Set aside.
Mix the flour with the baking powder. Add the eggs and, using a wooden spoon, mix into a stiff dough. Stir in the oil and the wine and keep stirring until smooth, or as smooth as you can get it with a couple of minutes of mixing. (You could use a hand held mixer or a stand mixer to do the mixing for you). Stir in the floured olives, the ham, the cheese, and the pepper. You shouldn't need to add salt, because the ham, cheese and olives all contribute enough salty taste.
Pour the batter into a non-stick 12 inch loaf pan (or a greased Pyrex loaf pan) and bake at 350° for 55 minutes to one hour,or until a tester comes out clean.
Remove from the oven and allow to cool 10 minutes before removing the bread from the pan. Allow to cool completely before cutting to insure clean slices. Cut into 1/2 inch cubes.
If you make this ahead of time, refrigerate the loaf without slicing it, then cut into cubes at serving time.
New!

Comments

Have your say about what you just read! Leave me a comment in the box below.