French Leek Tart Recipe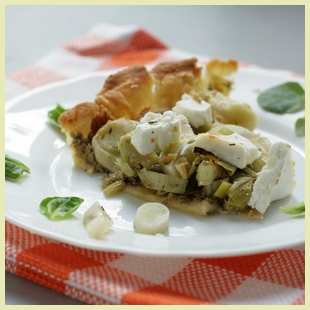 Here's a quick and fabulous leek tart recipe, featuring goat cheese and green olive tapenade for a Mediterranean flavor. You could serve it cut in small squares as a French appetizer, sliced as an entree, or take it on your next picnic.
Tapenade is a popular spread that originates from the south of France. It is made from olives, capers and other ingredients. You should be able to find a good quality jarred tapenade, or try this tapenade recipe if you are feeling ambitious.
For different effects, try making this tart in different shaped tart pans. You can find a small collection of these on Easy French Food: tart pans.
Leek Tart with Green Olive Tapenade

Tarte aux Poireaux et Tapenade
Preparation time: 30 minutes
Baking time: 25 min
Makes 6 servings
Ingredients
puff pastry (to keep with the simple theme of this site, I use packaged puff pastry)
4 to 5 leeks (if they are large you many need fewer)
2 tablespoons olive oil
1/2 teaspoon dried thyme
salt and pepper
1/3 cup white wine
1 small (3 1/2 ounce) jar of green olive tapenade (if you can't find green tapenade, black olive tapenade will work as well)
1 "log" of fresh goat cheese (about 8 ounces), cut in 1/4 inch thick rounds
Directions
Roll out the puff pastry into the shape you wish. Roll up the sides slightly and prick the bottom in a dozen places with a fork. Cook for 10 minutes at 400° F on a non-stick baking sheet. Remove from oven and cool.
Meanwhile, cut the roots and the greens off of the leeks. Slice the white part in 1/4 inch rounds. Steam them for 5 minutes (you can do this in the microwave if you wish).
Heat the oil in a frying pan on medium heat and add the leeks, thyme, and salt and pepper. Cook for 5 minutes. Add the wine and simmer just until the wine evaporates.
To construct the tart: spread the tapenade on the cooked pastry. Cover with the leeks and then evenly with the goat cheese.
Bake for 15 minutes at 400°F or until the cheese has melted and started to brown on top.
Flamiche
Looking for a different leek tart? Try this classic leek recipe. It comes from the region of Picardy in the very north of France.
New!

Comments

Have your say about what you just read! Leave me a comment in the box below.