French Leek Tart Recipe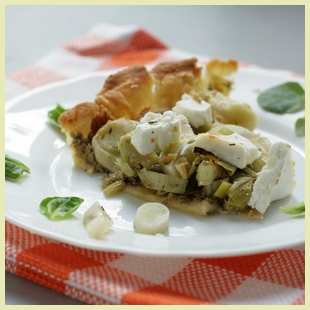 Here's a quick and fabulous leek tart recipe, featuring goat cheese and green olive tapenade for a Mediterranean flavor. You could serve it cut in small squares as a French appetizer, sliced as an entree, or take it on your next picnic.
Tapenade is a popular spread that originates from the south of France. It is made from olives, capers and other ingredients. You should be able to find a good quality jarred tapenade, or try this tapenade recipe if you are feeling ambitious.
For different effects, try making this tart in different shaped tart pans. You can find a small collection of these on Easy French Food: tart pans.